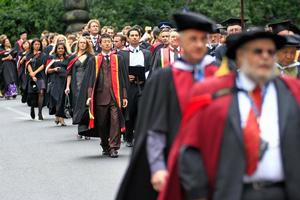 Twenty-one years ago, before the passage of the 1989 Education Act, international students were an exotic rarity in most of our schools and universities. A visit from an exchange student was met with curiosity and some trepidation.
Today, international students have become an integral part of the New Zealand landscape, and for schools, tertiary institutions and private training providers all around the country, international students are an extremely valued part of the student body.
International students give New Zealand's educational system a more international perspective. This helps the New Zealand economy to remain competitive in the global market place because our future workforce is at ease with a range of international languages, cultures and beliefs.
And it makes it able to tap into international connections and networks through the relationships that they have formed.
International students also provide a welcome source of foreign currency income for New Zealand. Export education now contributes over $2 billion per year to the New Zealand economy in foreign exchange, making education New Zealand's fifth biggest export earner and generating jobs for about 45,200 New Zealanders.
Of the $2 billion, about $597 million in tuition fee income is paid directly to our educational institutions with the balance in living expenses while they stay here - often for long periods of time. The Government also comes out a winner thanks to the $242 million in direct and indirect taxes that accrue as a result of the industry's efforts.
While many industries suffered one of their most difficult years on record in 2009, export education continued to grow. This was due in part to education's counter-cyclical nature. In a recession when jobs are scarce, people turn to further education to improve their skills and/or delay entering a competitive employment market.
In many countries, getting an English-language education or simply learning the language itself is seen as the key to future career success.
How much has this industry grown in a decade? In 1998/99 there were 8,233 first time student visas issued to fee paying international students. In 2008/09 the number was 30,726. This pipeline into our institutions has more than tripled in size in ten years.
In addition to this, export education has become a mature industry in New Zealand. Our institutions have established strong relationships overseas, and earned excellent reputations for providing a quality education at a reasonable cost. The majority of our universities feature on international academic rankings.
And most importantly, former students are returning to their home countries with high praise for their Kiwi experiences.
The industry has had its growing pains. An influx of international students in 2002-2003 created a need for regulation in the industry, and better protection for students. A compulsory Code of Practice for the Pastoral Care of International Students was introduced in 2003, protecting the rights and welfare of international students.
More recently, Education New Zealand introduced a New Zealand Specialist Agent qualification in 2008, training and vetting education agents in a number of countries to ensure that students and parents receive accurate information from an ethical source.
Also key to the success of the industry has been some tightly focused, highly effective marketing of New Zealand as an educational destination. We have been working steadily to build New Zealand's presence overseas through a variety of branding and marketing initiatives - both in-country and increasingly online.
We are competing head to head with Britain, Canada, the US, and Australia for the same students looking for an English speaking country where they can study.
A wide variety of international research confirms that for our size, we've been enormously successful in attracting students and punch well above our weight.
This marketing programme has been funded by a levy on tuition from international students, and through the Ministry of Education. Last year the Government expressed a desire to see export education grow, and they invested an additional $2 million into promotion through Education New Zealand.
This has enabled the industry to set a goal of 10 per cent growth in fee revenue year on year. In other words, they are aiming to turn an extra $2 million in investment into $60 million in added revenue. It's challenging, but as of August 2009 revenue was up by almost 8 per cent over the same period in 2008.
What is encouraging is that this investment is a vote of confidence in the industry. Education is already a key export industry in New Zealand, and clearly the Government sees the potential for even more growth with quite a modest investment.
This boost will enable us to have a presence at events such as the 2010 Shanghai World Expo, and to bring key education agents and media here to see first had what we have to offer students. It doesn't come a moment too soon. Last year, the United States began working with international education agents for the first time.
New competitors are cropping up in unexpected places. University programmes in English are being offered in many European universities, and in some Asian countries. New Zealand is on top of its game at the moment, but the rules are constantly changing. Keeping ahead of them is the key to the industry's future.
A new academic year is about to begin, and with it new arrivals are coming from all around the world for a New Zealand education.
Hopefully they will experience what our international students have come to expect - a quality education, some welcoming Kiwi hospitality, and a safe, beautiful environment in which to live.
Robert Stevens is chief executive of Education New Zealand.