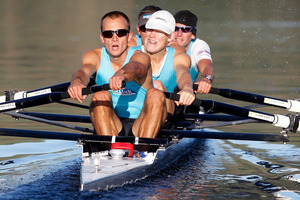 One race, no second chance. That's the nerve-rattling scenario facing two New Zealand rowing crews as they eye a trip to this year's Olympic Games.
New Zealand have 11 crews heading for London and the Games, running from July 27-August 12, and the men's eight and lightweight four want to join them.
To do so they have to qualify at the World Cup regatta in Lucerne from May 25-27. It won't be a place for faint hearts.
In the case of the four - James Lassche, Graham Oberlin-Brown, Duncan Grant and Curtis Rapley - they must finish in the top two to get to London.
For the eight - Richard Harrison, Hamish Burson, Tobias Wehr-Candler, Adam Tripp, Ian Seymour, Ben Hammond, Fergus Fauvel, David Eade and cox Ivan Pavich - only victory will do.
"There's a reason they call it the death regatta," Pavich said yesterday.
"It's do or die, but there's certainly no lack of motivation, and no bigger incentive than representing New Zealand at an Olympic Games."
The four includes three-time world lightweight single sculling champion Grant - his specialist event is not on the Olympic programme - while Lassche and Oberlin-Brown won silver at the world championships at Lake Karapiro two years ago.
Coach Dave Thompson is happy with progress, but "we can judge our speed, but we can't judge how fast the opposition is going".
That's why, for both crews, the opening World Cup regatta at Belgrade, Serbia from May 4-6 will be vital, as a tool for assessing how they're travelling compared with their rivals. Going the 2000m in less than six minutes is all but mandatory for the lightweights. Five of the six finalists at the worlds last year managed that.
If they qualify it will be a case of having to peak twice to be competitive at the Olympic regatta. But that's for later, said Thompson.
"You can't worry about peaking twice, although I think peaking is a bit like jetlag; the more you worry about it the more you get it.
"We're pretty happy and I know if we have a good day hopefully we'll be going as fast as anyone else out there."
The eight carry a famous legacy with them to Lucerne. Olympic champions in 1972, world champions in the 1980s, it has been a lean time of late for the blue riband event.
New Zealand did well at the 2010 worlds, but finished fourth in the B final at Bled, Slovenia last year, when only the six A finalists and B final winners automatically advanced to London.
There have been personnel changes, the coxless four being the priority boat of the two sweep oar disciplines, but the core remains.
The crew went to Twizel for the Maadi Cup secondary schools regatta this month, felt the warmth of the support as they rowed the course and with past eight heroes, Wybo Veldman, Tony Hurt and George Keys passing on tips, they are aware of the place of the eight in New Zealand sporting folklore.
Pavich said the crew are determined to make a statement, even on the back of a limited, seven-week buildup.
"There's a lot of emotional attachment to that one race, but mentally it's about blocking that out and focusing on the process and the job at hand," he said.
The crews leave for Europe on Friday, with the confirmed Olympic crews departing on May 18.