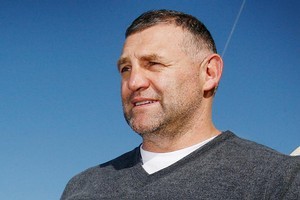 Yachting's highly experienced Star class sailors risk missing the Olympics if no more funding is made available - with the two crack yachties involved saying they were expected to find $300,000.
Hamish Pepper and Craig Monk had intended to race at the London Olympics, needing a top 11 finish to secure qualification at the current world championships off Fremantle - but split in the lead-up.
A battle with YNZ to get enough funding to race saw Monk pull out of the campaign and Pepper is trying to get another partner at late notice. He now intends to contest their last qualification opportunity at the Star world championships next May off Barcelona. Pepper is trying to get urgent New Zealand citizenship for former British America's Cup sailor Jim Turner who has resided here for eight years and is married to a New Zealander. The pair have started training off Auckland's Westhaven marina in preparation for a late campaign.
"Craig's withdrawal is a huge setback but we're still mates," Pepper - like Monk, a vastly experienced America's Cup and Olympic sailor - says. "This battle with funding was unexpected and Craig had to make a decision.
We couldn't afford what would have amounted to $150,000 each to run the campaign properly to the London Games. We got frustrated with the Yachting New Zealand politics. We felt we had done more than enough in the last three years to prove ourselves but they were only prepared to step up with enough funding to get us a couple of airfares, a bit of accommodation and a couple of sails. We would basically have been able to do two regattas a year. The rest was up to us.
"Craig and I put in over $70,000 each over the past year; almost three times what YNZ were putting in. I'm pretty disappointed. We finished second in the world in 2009 and were ready to do more regattas but didn't have enough funding. We missed the world championships off Rio de Janeiro last year due to steep logistical costs. We both have families and mortgages. We didn't know what our funding for Perth was going to be until two months after the pre-Olympic regatta where we finished sixth.
"I think YNZ thought we were wealthy enough to do it ourselves. We're experienced campaigners but expected them to step up the funding in the final year. We were meeting roadblock after roadblock and it was frustrating. The only reason I'm continuing is because I have a passion to win a medal."
Monk already has an Olympic medal with bronze in the Finn at Barcelona. The 40-year-old Pepper has a ninth in the Star with Carl Williams at Beijing and seventh and 10th in the single-handed Laser at Athens and Atlanta respectively.
Pepper is rushing to get Turner signed on legitimately: "We're hopeful. He's seeing a residency-specialist lawyer who says he ticks the boxes. Jim's done the paperwork so he should get exemption."
Responding by email, YNZ Olympic programmes manager Jez Fanstone says all campaign funding starts with YNZ and the athlete mutually agreeing to a campaign proposal: "[There is] a requirement for certain targets and conditions to be met by the athlete in order to retain continued funding. These agreements remain confidential.
"Funding and campaign decisions are made by a high performance panel and are supported by, and consistent with, the aims and goals of our stakeholders. YNZ does not fully fund campaigns and all athletes are required to make a personal contribution. The funding for these athletes is ultimately derived from the public purse and as such we have a responsibility to ensure this money is used wisely."
The Herald on Sunday understands Monk and Pepper needed to finish fifth or better under those confidential terms at the pre-Olympic regatta to guarantee further funding. They finished sixth, including two top three finishes in the 10 races counting out of 11.
"We made some mistakes, gear broke and we missed a race. Otherwise we could've been in the medals," Pepper says. "Surely, given our record, they could have shown us leniency or maybe a bit of love."
Pepper insists the circumstances have made him more determined: "We have to prove we're in contention for a medal at the [Star] world championships. I don't want to go [to the Olympics] if we're not in that bracket. A top eight - or preferably top five - finish would be mandatory. Hopefully YNZ will change their view. If we're off the pace and we've got no funding, it wouldn't be worth it."