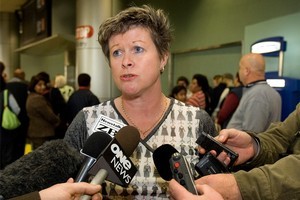 International Netball Federation vice-president and Sport South Island academy chief executive Kereyn Smith has been appointed secretary-general of the New Zealand Olympic Committee (NZOC).
Smith, who will lead the country's Olympic and Commonwealth sport into the new decade, will be the first woman in charge of the organisation.
She brings with her more than 20 years in sport leadership and governance both at both a national and international level.
She succeeds former Barry Maister, a member of the gold medal-winning 1976 Olympic hockey team, who has held the position since 2001 and will step down on December 31.
NZOC president Mike Stanley said today Smith was chosen for her strong leadership ability, strategic expertise and commercial and financial acumen.
"Kereyn is both highly qualified and a motivational and inspirational leader," Stanley said.
"High performance sport in New Zealand is undergoing a period of review and change and Kereyn is the ideal person to provide the strong strategic direction necessary at this time."
Smith will also work at both a national and international level to advocate on behalf of New Zealand athletes and sport and acknowledges the aggressive financial targets ahead.
The NZOC is a non-profit charitable organisation that receives 7 percent of its annual revenue from the Government.
"In order to deliver consistently high performance environments at Olympic and Commonwealth Games and to on behalf of athletes in New Zealand, financial security is crucial," Stanley said.
"Kereyn will be part of ensuring this security."
Smith will take up her role in January, 18 months out from the London Olympic Games which begin on July 27, 2012.
"I am honoured to be appointed to the role of secretary-general," Smith said.
"I am also acutely aware of the very real challenges that lie ahead. With less than two years to the London Olympic Games, a dynamic and changing high performance landscape, and the ongoing need to secure the necessary financial resources to add value to sport and athletes, it will certainly be a testing time.
"Kiwi athletes have unreasonable ambition and expectation that they will take on the best in the world and succeed.
"This means sports organisations and their leaders must also step up their pace. I'm excited to be part of this drive for success."
Smith also believes sport plays an important role in society and will look to further develop a series of programmes that inspire school-age children to take up sport and, in doing so, become the best they can be.
Maister was appointed to the IOC earlier this year and, as such, will continue to sit on the NZOC.
Smith will be the 10th secretary-general of the NZOC which celebrates its centenary next year.
- NZPA