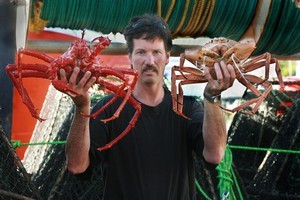 New Zealand fishermen are pressing ahead in the hunt for "the world's deadliest catch" - giant crabs that inhabit the seabed a kilometre below some of the roughest patches of ocean in the world.
Fisheries Minister Phil Heatley yesterday approved an exploratory permit to see if deepwater king and red crabs can be caught at commercial levels.
The permit allows Crabco, an umbrella company representing deepwater crab quota-holders to increase their annual take from about 60 tonnes to more than 1000 tonnes.
Crabco chairman Tony Craig said the permit would allow the company to establish the nature, extent, distribution and abundance of the crabs, which weigh up to 2.5kg each.
When a "hot spot" was identified it would be ring-fenced, limiting subsequent fishing.
The new permits lift annual catches for the red crab, "a paddle crab on steroids", from 10 tonnes in each of two areas, to 100 tonnes each.
Limits for the spindlier king crab - which is almost identical to its Alaskan cousin as featured on television's The World's Deadliest Catch - have been lifted from 10 tonnes to 200 tonnes in three areas and to 250 tonnes in the notoriously rough Great Southern Basin to the east of Stewart Island.
Live, the red crab fetches about $40 to $45 per kg, the king crab as much as $70.
The crabs are caught at depths of 900m to 1200m in pots, and "berried" females - carrying eggs - are returned to the ocean.
Mr Craig said it had been "rather an expensive learning curve" working out how and where to catch the crabs, which required large vessels and specialised gear.
Both species could be marketed as high-value products in Europe, Asia and the US, as the practice of catching them in pots allowed for live exporting.
King crabs, which grow up to 1.2m long, are a valuable commodity in the Northern Hemisphere.
Twenty-three varieties of king crabs are found in the New Zealand, Australian and Ross Sea regions, leading one National Institute of Water and Atmospheric Research scientist to proclaim New Zealand as the "king crab capital of the world" this year.
Phil Heatley said the 3-year permit would not create sustainability concerns.
- additional reporting: NZPA