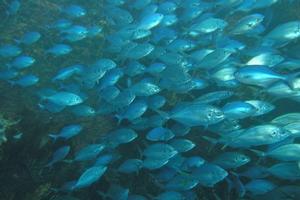 Take the area of New Zealand, and multiply it by four. Add spectacular mountain ranges, yawning canyons, erupting volcanoes and some of the world's most pristine, untouched and unexplored wilderness.
Now imagine that this area has been recognised as part of New Zealand's natural heritage and has been protected from commercial exploitation by law, forever.
If that sounds like the kind of thing a bunch of conservationists might dream up, that's because it is.
Two years ago, 1.2 million sq km of seabed around New Zealand was set aside as regulated benthic protection areas, or BPAs. These areas - a total of 17 different ones within the country's exclusive economic zone - are protected from all bottom-trawl fishing methods, including dredging. The areas are broadly representative of marine biodiversity in New Zealand waters.
It's hard to appreciate how significant this action was, but consider this - it increased the area of New Zealand's protected seabed from 3 per cent of our exclusive economic zone to 32 per cent overnight.
These areas are a national treasure, something to be proud of. But not many people know they even exist, and I'd venture that a lot fewer would know who was behind them - New Zealand's commercial fishing industry.
Why would the group of people with so much to gain from fishing our deep water work with the Government to ensure it never happens in these places? Well, it makes more sense than you think.
The answer goes to the heart of the way we look at our business. More than any other major natural resource-based industry in New Zealand, our economic destiny is inextricably linked to our environmental practices. To put it bluntly, if we don't look after our resources, we won't have an industry.
We pushed for protection areas because we wanted to find the balance that would allow New Zealand's $1.6 billion a year commercial fishing industry to continue to operate and export, while at the same time responding to concerns about protecting the marine environment. It was the right thing to do.
That's why when I read Anthony Doesburg's comment (Hot prospects in deep water) I felt it needed a response. Mr Doesburg urges Minister Gerry Brownlee to look into the possibility of deep water mining, before "we start ripping up national parks in search of mineral wealth".
On one level that's an understandable position. After all, mining under the sea takes place out of sight, and would undoubtedly cause less public controversy than mining in a national park.
The irony for the seafood industry is that the very area Mr Doesburg is proposing - along the Kermadec arc, which stretches northeast of New Zealand between the Bay of Plenty and Tonga - is within a benthic protected area.
That area, called the Tectonic Reach area, includes a high concentration of seamounts and hydrothermal vents, which allow the minerals to be deposited.
Industry and government, backed by science, agree that we can still harvest fish sustainably from such areas using fishing methods that do not go near the bottom, and we continue to do so.
Bottom trawl and dredge fishing remain essential fishing methods for a large proportion of our commercial fisheries in areas outside of BPAs. It should be noted that less than 10 per cent of New Zealand's exclusive economic zone has ever been bottom-trawled.
It is clear that New Zealand needs the income that comes from both fishing and mining. It's also clear that this needs to be achieved with due consideration of the effects we are having on the environment.
That fact that the Kermadec arc can be proposed as a mining area in apparent good faith highlights a wider issue. We need a policy framework that governs all the different competing interests in our marine environment - seafood, mining, oil exploration, telephone and internet cable laying or whatever else might come along.
Such an "oceans policy" would ensure all industries working in the marine environment are able to achieve the right balance between their competing commercial interests and the need to safeguard environmental values.
New Zealand's fisheries quota management system offers a model for this kind of balance. Just this year, independent research published in the journal Science singled New Zealand out for praise, because we acted with foresight to protect our fisheries before drastic measures were needed.
With the fantastic commercial potential for new industries operating in the marine environment, we need to find a way to apply that foresight together.
Owen Symmans is chief executive of the New Zealand Seafood Industry Council.