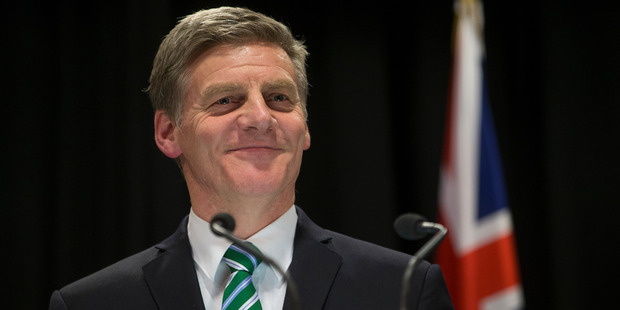 Bill English flies into Tokyo this afternoon as the United Nations Security Council prepares to meet over the latest missile to be provocatively fired by North Korea's Kim Jong-un in flagrant defiance of the nuclear test ban treaty.
The sabres are being rattled again on the Korean Peninsula and as a missile flies Tokyo's just 1284 kilometres across the Sea of Japan from Pyongyang, or almost a thousand kilometres closer than Sydney is to Auckland.
But if you're wanting to visit Pyongyang from the Japanese capital you have to pop into Beijing on the way, a trip taking you between 13 and 19 hours, so not surprisingly there's not a great tourist trade between the two capitals.
Imagine if Malcolm Turnbull, lost it and decided to use Australia's vast plutonium products to embark on a nuclear programme, how would you feel? Probably like the Japanese do right now, not helped by The Don in Washington saying he's not happy with the kid Kim flouting international law, and people like James Comey know what it's like when he's unhappy.
Even more worrying, Trump also said after dropping his "mother of all bombs" last month on Afghanistan that it sent a message to North Korea which he said was a problem that will be taken care of. It'd be appreciated if he keeps his finger off the trigger at least until English is on his way home this coming weekend.
So the Japanese are bound to have their minds on other things when English and his trade delegation turn up to do business. The PM's in Japan trying to jolly them along to stick to the Trans Pacific Partnership now that Donald Trump's building a trade wall around the United States.
Japan was a late starter for the TPP, and even though economic times are tough there, it's still in the third most powerful economy in the world.
In many ways their outward looking Prime Minister Shinzo Abe will be somewhat relieved that Trump won't be around if TPP does survive given their awkward, 19 second handshake when he became the first foreign leader at the White House in February. At the end of the clinch Abe looked decidedly relieved that the slapping and pulling contest was all finally all over even if the American President did compliment him on the strength of his hand.
Given his ability to shear a sheep the English grip is also bound to leave an impression. The kind of back door free trade agreement with Japan, that we were hoping for with the United States under TPP, would be a pretty good start.
• Barry Soper's travelling to Japan courtesy of our National carrier, Air New Zealand.