Former Blues player Kurtis Haiu's brother Leon has graduated as a Corrections officer on the one-year anniversary of the rugby star's death.
Leon Haiu was one of 122 new Corrections officers who graduated today at the New Zealand Campus of Innovation and Sport at Trentham after a 12-week course.
He was also presented with the Minister's Excellence Award by Corrections Minister Louise Upston, which he described as a "very humbling experience".
"I actually thought it was going to be a few other guys, I was really humbled and surprised. It's a real privilege, there are a number of people who could've won that award, there's some really amazing people," he said.
He told the Herald the year since his brother had died had been "really tough" on him and his family.
"It's been a really tough year, losing our brother, for my sister-in-law losing her husband and my nieces losing their dad. We've felt the loss really tangibly, it's been really emotional, we've been trying to keep a lid on it but there was really no possible way."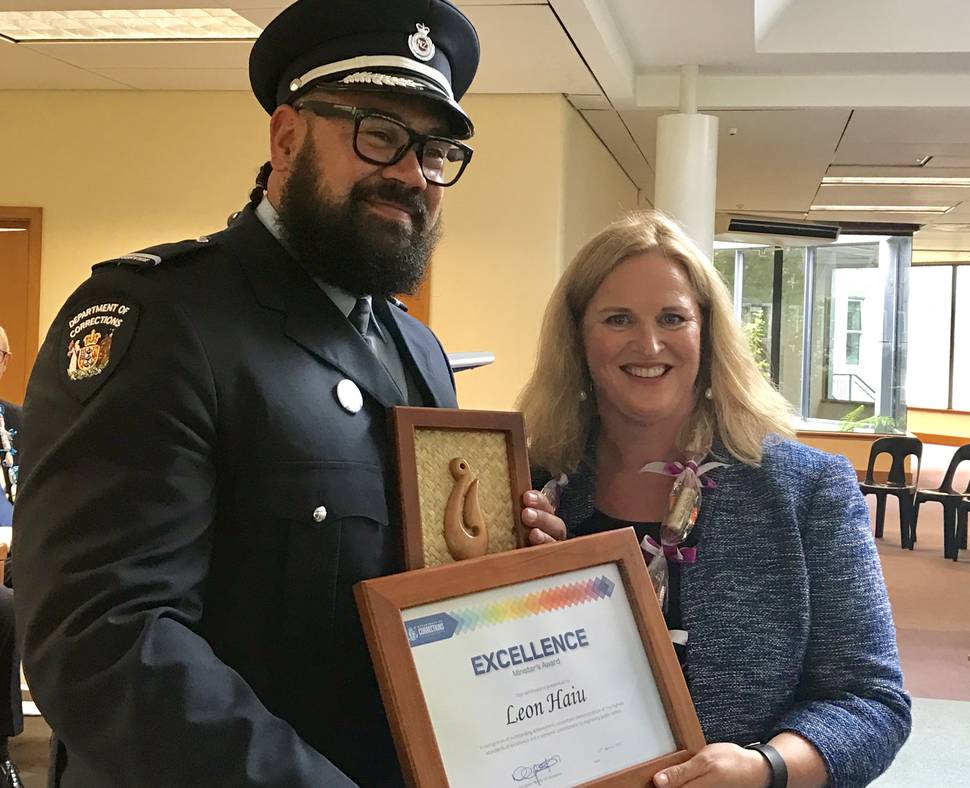 Kurtis Haiu died on April 13 last year aged 31 after a long battle with cancer, leaving behind wife Freida and young daughters Aaliyah, 9, and Sienna, 7.
Leon Haiu's cohort of newly-graduated officers wore badges with Kurtis' image on them.
"One of the girls in the cohort knew it was my brother's anniversary and she got badges done up with Kurtis' photo on the front, and our whole cohort wore them to honour his memory, and there was a minute's silence for him and one of our kaumatua in Corrections who passed on Tuesday, so it's been an emotional day," he said.
"As hard as it's been, we're really thankful for all the love and support we've received from all over the world and around New Zealand. People have gone above and beyond sending their love and support to us.
"It's really humbling, we're just really thankful as a family."
Haiu said he knew his brother would be proud of his achievements.
"He'd be super stoked, he'd be really proud, he would've been here to come and celebrate."
He said there were "too many" people to thank for their support since Kurtis' death, but acknowledged Sacred Heart College, the Auckland Marist rugby club, the Blues, together with friends and family.
Before joining Corrections, Haiu spent 15 years working in Turangi as a community and youth support worker. He will work at Tongariro Prison.
He said has always wanted to support people who needed it most.
"I just really want to be part of a positive change.
"My heart has always been for the marginalised ... just trying to be there to offer a hand in people's journeys and their lives, just trying to impact positive change has always been close to my heart ... it's a bit of mahi nonetheless."
Today's graduation brings the number of new officers employed as part of Corrections' recruitment campaign to more than 350, with the aim to attract 600 new frontline staff by September.
Upston said she was pleased to see a large group graduating.
"It's heartening to see so many men and women willing to step up to this very challenging job. Our officers are committed and passionate about giving prisoners the support and encouragement they need to turn their lives around."