A Rangiaroa boy left shaken by the recent earthquakes will have the best seat in the house for today's Farmers Santa Parade through Auckland city.
Brock Harlum, 9, his mum Shelly Thompson and Brock's friend Sam have flown to take a seat next to Mr Claus on Santa's sleigh, after winning TV2's What Now children's Christmas competition.
He won the competition for dressing up as a Christmas stocking.
The eager youngster said he can't wait to meet the jolly man in red. "I am excited and happy to meet Santa. I'm looking forward to saying hello to him."
He said it will be his first trip to Auckland but he already knows a bit about the City of Sails. "I know Auckland has a Sky Tower, Harbour Bridge, Rainbows End and train stations. It is a big city with lots of people."
Brock's mum said it had been his idea to enter the TV programme's competition, but the winning entry was a team effort.
"We realised that earlier this year Brock had grown out of his Christmas shirts and given them away, so we decided to pull out our Christmas decorations to see what we could invent. When we saw the stocking, it reminded us of when Brock was an infant and he could fit in it... the planning went from there."
She said it was "amazing" to have won but she is also thinking about everyone affected by the earthquakes.
"We have been thinking of all those people who are enduring the brunt of the quakes. Our hearts go out to them, and our thoughts are with them as they deal with the many aftershocks and destruction."
Brock he was shocked when he found out he had won, because he had been feeling strange after the earthquake.
"It was the biggest earthquake I have ever felt. It felt like a boat was moving and it was very unpleasant."
He said he can't wait to come to Auckland with Mum adding "He will have the most positive experience of a lifetime... and that's all we could ever ask for."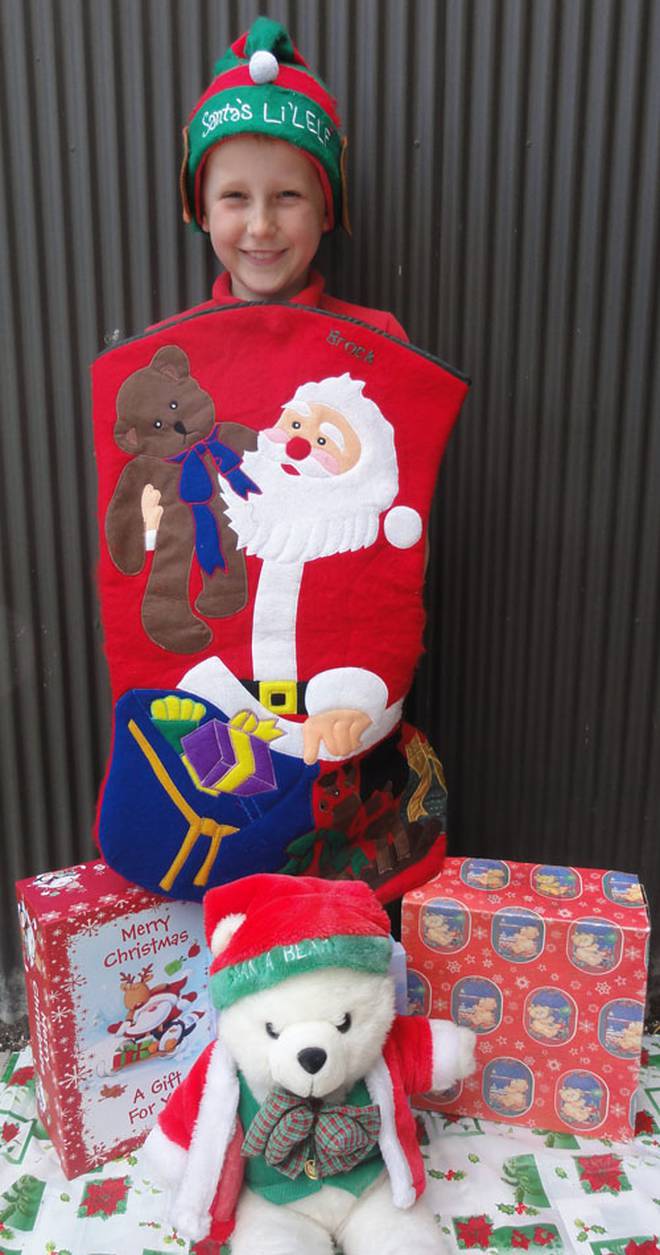 Farmers Santa Parade information:
• Parade date: Today!
• Fine weather is forecast for Auckland today. But if rain does look likely, a cancellation announcement will be made on NewsTalk ZB after 10am.
• Rain date: Sunday, 4 December 2016
• Start: 1pm, Cnr Cook St and Mayoral Drive
• Route: Left in to Queen St, down Queen St, right in to Customs St E ending at corner of Britomart Place.
• All inner city roads will be closed between 11 am and 4pm on Sunday 27 November.
• From 2.30pm, Santa's Party will take place at Aotea Square featuring acrobatic demonstrations, face painting and a photo booth.