More thunderstorms are expected to roll over Auckland today as wet weather refuses to let up for the second week of school holidays.
It's shaping up to be better spent indoors as unstable westerly conditions bring thunderstorms and heavy showers.
It comes as violent thunderstorms left parts of the North Island deluged at the weekend.
Huntly has hardest hit when an intense cloudburst brought havoc to the small Waikato community. A giant mudslide destroyed parts of a house and roads were left swamped yesterday afternoon.
The rain is still falling intermittently in Huntly this morning but there's no sign of the flooding which ripped through the North Waikato town yesterday.
However, the Waikato River remains high, sitting just a few metres away from Riverview Rd. The road remains closed this morning with council contractors assessing the three large slips which are still blocking the road.
It's unlikely the road will re-open today, contractors say.
Down the road at Mary St - a portion of which was affected by flooding last night - it's back to normal for locals, although they face a bit of a clean up.
Allan Foote's driveway, garage and towels hanging off his clothes line were under water last night. This morning he was beginning to tidy it back up again as paint barrels and other items from his garage - along with debris from the river - lay strewn around.
He said his property always floods as he gets run-off from the nearby quarry. It's old water pipe was damaged and replaced with a smaller one some years ago, but it can't handle the big downpours and the water spills out on to several properties.
He's been trying to get the council to fix the problem without success so far.
Firefighters came to his rescue last night and dragged a fire hose over the brow of Mary St so the water could get pumped back into the river.
Foote said he'd again called the council this morning and hoped it would get the issue sorted sooner rather than later.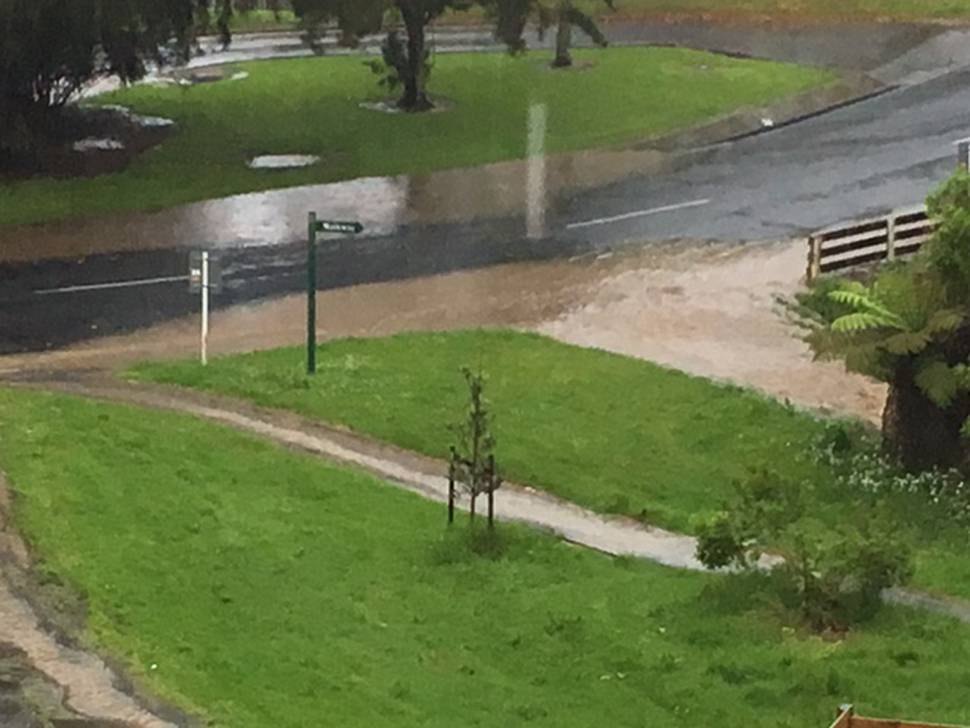 Earlier in the day fire crews were needed to pump out 15 homes as flash flooding inundated properties on Auckland's North Shore.
Forecaster Tom Adams said there would be more showers off and on throughout the coming week.
"There's definitely quite a few showers on the cards for the remainder of the school holidays," said Adams.
"There have been some particularly heavy falls yesterday and there's a chance of some more today."
He said these would be thundery and centred around Auckland and western areas of the North Island this morning before shifting inland this afternoon. There was also a risk of thunderstorms for inland Canterbury this morning.
However there would be respite from rain on the eastern coastlines of each island.
This morning overnight rain in the Coromandel Peninsula had brought down several small slips and vegetation over the highway stretching between Thames and Coromandel.
A Facebook post from the Thames Coromandel District Council said a tree was lying across the road four kilometres south of Wilson's Bay and a lot of surface water and debris remained on the highway.
Fog briefly descended on Auckland Airport early today but cleared without causing any disruption to flights.
Adams said there would still be foggy patches around the city but these would soon shift with the wind.