Fun traveller or furious visitor?
French hitchhiker Cedric Claude Rene Rault-Verpre, whose disastrous four-day wait for a lift out of Punakaiki landed him in court, has left vastly different impressions on locals during his global travels.
In New Zealand, motorists spoke of their shock after they were allegedly abused by Rault-Verpre during his attempts to hitchhike out of the small West Coast town.
Rault-Verpre, 27, pleaded guilty at Greymouth District Court yesterday to wilfully damaging road signs after his frustration boiled over.
Outside court, Rault-Verpre said New Zealand should be renamed "Nazi Zealand". The outburst made international headlines.
Rault-Verpre was ordered to surrender his passport as part of his bail conditions and remanded to appear at Christchurch District Court on Friday.
A court source told the Herald that Rault-Verpre indicated that he would hitchhike across the Southern Alps to Christchurch.
While on a road trip from Auckland to Queenstown with her mother and sister who were visiting her from Chile, Alejandra Carolina came across the hitchhiker at about 4.30pm on Saturday.
She was driving through Punakaiki when she noticed two bags on the roadside that "looked like rubbish".
Then she saw a man 30m ahead walking in the same direction she was heading, with his back to her, and his thumb out.
As she passed, she claims the hitchhiker "showed me his middle finger".
She said he "looked stressed" and was "walking very fast".
"He looked upset, it was a weird situation."
The encounter was "surprising and annoying", Carolina said.
"The guy was very rude and he had a kind of bad vibe. I usually stop [for] people on the road but even if I'd gone driving alone, I wouldn't have picked him up.
"I think the attitude when you are doing hitchhiking is so important. Nobody [is] gonna take for free someone that looks rude, arrogant and aggressive."
In court, Rault-Verpre said he had spent four days on the side of State Highway 6 at Punakaiki and no one had bothered to even offer him water.
Locals contacted police on Monday alleging Rault-Verpre took his frustration out on road signs at Punakaiki.
They also told police he had verbally abused tourists and locals.
The owner of the signs, Fulton Hogan, is seeking $3000 reparation, an amount Rault-Verpre is disputing.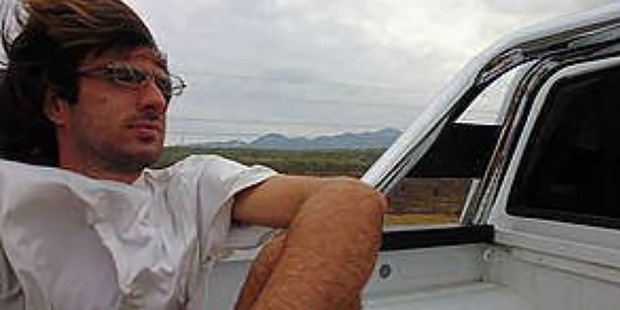 Frenchman tidy, friendly and talkative
Rault-Verpre's epic West Coast meltdown appears out of character for the globe-trotting traveller, who hails from Villeneuve-Loubet in the south of France.
His profile on social networking site Couchsurfing.com is full of positive encounters with people who have put him up, including several Kiwis during his New Zealand stay.
He's variously described as being tidy, friendly, and talkative. All of his 80 references are positive.
One host in Whangarei says she would have him back.
"I do not think any words can describe Cedric. Anybody who has hitchhiked through 70 countries and is still going is unique," she posted on his page.
"He said he is normally pretty quiet but he wasn't when we got talking. He has a unique perspective on people, countries and cultures from his travels. He certainly challenged a lot of my ways of thinking. We had some great debates and I learnt a lot from him. I hope you have a great time in NZ Cedric and you are welcome back anytime."
His profile says he is fluent in Bulgarian, English, French, and Spanish and describes himself as a, "Hitchhiker who is travelling around".
"When I have the opportunity to meet someone it's usually good, sometimes great, sometimes boring. The couch is not so important to me but the hospitality is," he explains.
Rault-Verpre says he is interested in "nature, beautiful mountains, cultures and old arts", as well as "ruins not crowded by tourists and their bloody camera".
He lists 73 countries that he has visited, including New Zealand.
Duty lawyer Marcus Zintl said Rault-Verpre just wanted the matter to go away and was prepared to pay reparation, although he believed the signs were already damaged and he did not do $3000 worth of damage to them.
Rault-Verpre arrived at the courthouse with a backpack, carrying a large black rubbish sack and wearing jeans and a jumper.
Asked outside court how long he had been in the country he replied, "too long - way too long - and I've been to 80 countries".
Senior Sergeant Paul Watson said: "He could have started walking, he would have been in Franz Josef by now."
A replacement for the major sign at the entrance to Punakaiki was being ordered and would be installed in coming weeks.
A spokeswoman for the New Zealand Police said people should not hitchhike or accept rides from people they don't know.
"If you do decide to hitchhike, police strongly advise you not to travel alone," the spokeswoman said.