The country is shivering in near-record low spring temperatures but the forecast looks promising for those who plan to take to the slopes this weekend.
The MetService is warning the storm will send a final parting shot to eastern regions, where gales are expected to lash Gisborne and northern Hawke's Bay tonight. Snow is continuing to fall in region's ranges but the threat of heavy snowfall has lifted.
But the gloom and bitter cold has paved the way for stellar conditions on southern skifields where 35cm of snow fell in the past 48 hours. Those in the North Island would have to wait until Sunday to don their skis.
The Mt Hutt skifield said all the main trails looked amazing and promised some off-trail "pockets of magic" .
New Zealand woke to single digits this morning as the vicious spring storm that brought snow and destructive gales for the past two days began to ease.
At 6am Wellington was just 4.7C but coupled with wind chill was expected to be more like -1C. The coldest temperature has been recorded in Tekapo on -5.7C.
Howling winds continue to pound Wellington and Wairarapa but MetService said these would ease throughout the day.
Ferry services across Cook Strait have been cancelled for the second day as giant 4m swells make crossing the channel too dangerous.

The Desert Rd was closed overnight but reopened mid-morning. Road authorities warned motorists to take care on all highways affected by the winter conditions.
In the central North Island about 500 customers in Taupo and Rotorua had their power cut overnight. Wintry conditions also saw about 90 homes and businesses in Canterbury lose power for a short time.
Temperatures have plunged well below average this week, and Auckland experienced one of its 10 coldest September days on record.
MetService forecaster Peter Little said the mercury reached just 11.3C, which was possibly the fifth coldest day since 1994, when a marginally cooler 11.2C was recorded.
"It looks like it was definitely one of the 10 coldest September days ever," he said.
Although it would be slightly warmer today, temperatures would still be biting and suggested people in the City of Sails dress as though they were in the deep south.
Snow flurries recorded this morning in Johnsonville, Wellington
Weatherwatch's Philip Duncan said many New Zealanders were noticing the wind chill adding an icy component to the air.
The cold southerly made it feel much colder, especially if it was laced with showers or snow flurries.
"The coldest of the air was on Thursday so wind chill on Friday won't be so bad - but even at 8:30am it still felt like -8 in exposed parts of Banks Peninsula and down to -13 or even lower through the alpine mountainous areas of Canterbury and Marlborough."
He said people could expect overnight lows to drop further as the winds faded but daytime highs would feel much warmer without the southerly blowing.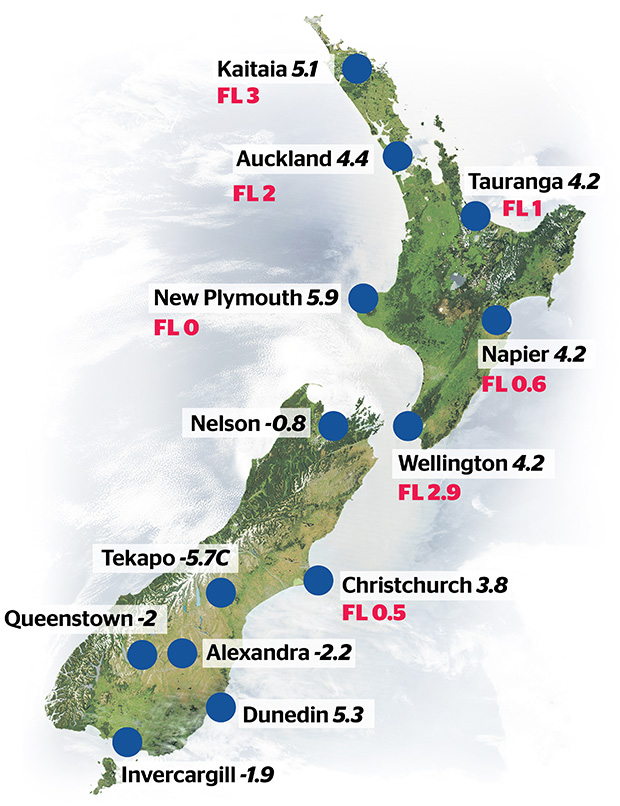 Graphic source: Feels Like temperature
But the end of the unseasonal polar blast is in sight. The large high that brought the hurricane-strength winds and snow is poised to bring a warm spell to the country in coming days.

Although the East Coast of the North Island, Wellington and Canterbury could expect to see a few showers today, more snow or hail was unlikely.
Fine weather was expected to return on Sunday, although clear skies would mean overnight temperatures would stay low.