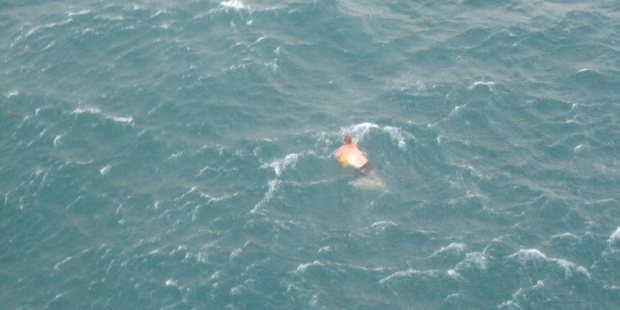 A Coastguard skipper has described the moment he discovered a fisherman who had clung to a floating petrol container for seven hours overnight after his boat capsized.
Two men were fishing off the coast of Waihi Beach late last night when their boat upturned.
DO YOU KNOW MORE? SEND US AN EMAIL
One man swam to shore to call for help while the other held on for life to a yellow 20-litre petrol container, waiting seven hours in darkness before he was rescued.
They were saved by Coastguard vessel Gallagher Rescue, skippered by Tom Watts.
Mr Watts said they tipped over on a bar about 11pm last night.
"You don't cross a bar at night. What they did was dumb, really dumb.
"The conditions were not ideal for what they were doing, and their skill level was not up to scratch."
Mr Watts said once the fisherman was in the water he was determined to hang on to his means of survival.
"He did the sensible thing, he took the cord from out of his trousers and tied it to the tank and then to his wrist, he wasn't going to let that thing go."
The skipper said he was surprised to find the fisherman in a relatively stable condition.
"I wouldn't have expected him to be as good as he was, I would've expected much worse.
"He was very pleased to see us."
Mr Watts said the fisherman stuck out at sea was not wearing a lifejacket, although there were some on board the boat.
They also failed to log the bar-crossing with Coastguard.
"If they had done that we could've been there at 11.15 instead of 6am."
He said boats attempting to cross the bar was a constant concern at Waihi.
The Auckland Westpac Rescue Helicopter received a call about the missing men from Waikato SAR Police at 5.30am.
Westpac Rescue 1 took off from Coromandel Rescue Helicopter Trust (CRHT) at Whitianga for the search.
The upturned vessel was located at 6.20am and Coastguard Waihi was advised of the GPS location.
The rescue helicopter crew used night-vision goggles to try and track the fisherman down.
The man, in his late 40s, along with the upturned vessel, was safely returned to Waihi for medical assistance.