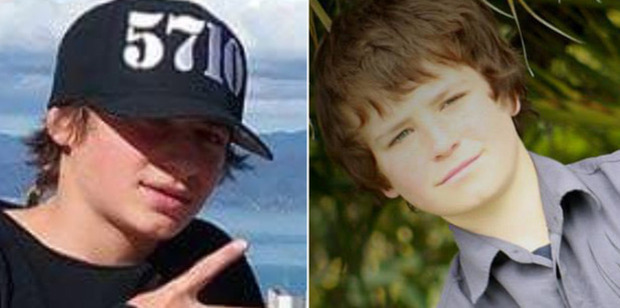 More tributes are emerging for the teens killed following an early morning police pursuit in Masterton.
Hoani Wiremu Korewha, 15, and Pacer Willacy-Scott, 15, died after the stolen car they were in fled from police at dangerously high speeds and collided with a pole on the town's main street, Queen St, about 2.15am yesterday.
The Honda Civic they were in was going so fast, video footage showed it sent sparks flying before the collision. Two other occupants, also aged 14 or 15, are in stable condition at Masterton Hospital.
R2R, Rangatahi to Rangatira Featherston youth group posted online: "We have lost some valuable friends ... Rest in peace boys, I hope you are flying high up in the sky."
Meanwhile, a friend of Hoani's posted: "Rest solid bruvas! We lost a beautiful thuggn soul and Hoani gained his angel wings. Our love for you will never change.
Your name will forever ride (sic)."
Another friend said: "It should of never ended like this ma bruva love you endlessly. Forever in my heart ma little bruva (sic)."
A friend of Pacer's said the teen always made things much more enjoyable.
"Words can't even explain how I'm feeling right now ... I don't want to believe it."
Alan Maxwell, co-ordinator of Wairarapa Anglican Youth (WAY), said three of the four teens in the car had attended the group he had founded in Featherston nine months ago and had helped with working bees.
He had received messages throughout yesterday from other group leaders and community agencies "asking me what can they do to help" and he hoped there would be a combined community response.
"I'm devastated but more angry than anything else because the writing's on the wall when these kids have such limited choices and the community is so apathetic to it all," he said.
"The bottom line is they're just bored and if we don't give them things to do, they find stupid things to do and make stupid choices.
"At some point, as a community, we have to take responsibility, otherwise these kids are not going to be the only ones [to die] this year.
"It's just such a waste."
Mr Maxwell led a vigil at St John's Church in Featherston "for those who need comfort or wish to light a candle for our youth".
The incident came only a week after the death of Eden Nathan, 16, in a similar accident in South Auckland. The 15-year-old driver of that car was also critically injured.
Police Minister Judith Collins said the incidents showed young people needed to be reminded of the "absolute stupidity" of fleeing from officers.
"They are putting themselves and the public in extreme danger," she said. "Nobody wants to see people dying needlessly on our roads and this is a devastating tragedy for the families of the young people who have lost their lives.
"The fact that we have more than 2000 fleeing driver incidents every year [with around 16 per cent of them ending in crashes] suggests that the message is not getting through."
The Independent Police Conduct Authority is investigating both crashes.