Heavy rain that has saturated the North Island and upper South Island is expected to ease.
Rain and thunderstorms pelted Auckland overnight but the the torrent had eased off by the morning.
A low-pressure front heading from west to east across the North Island was to blame for the inclement conditions, which also saw fog blanket Wellington on Sunday, disrupting flights and causing travel chaos for thousands of air passengers.
Severe weather warnings were issued for Nelson, Marlborough, Taranaki, parts of Bay of Plenty and the central North Island high country today as the front made its way through.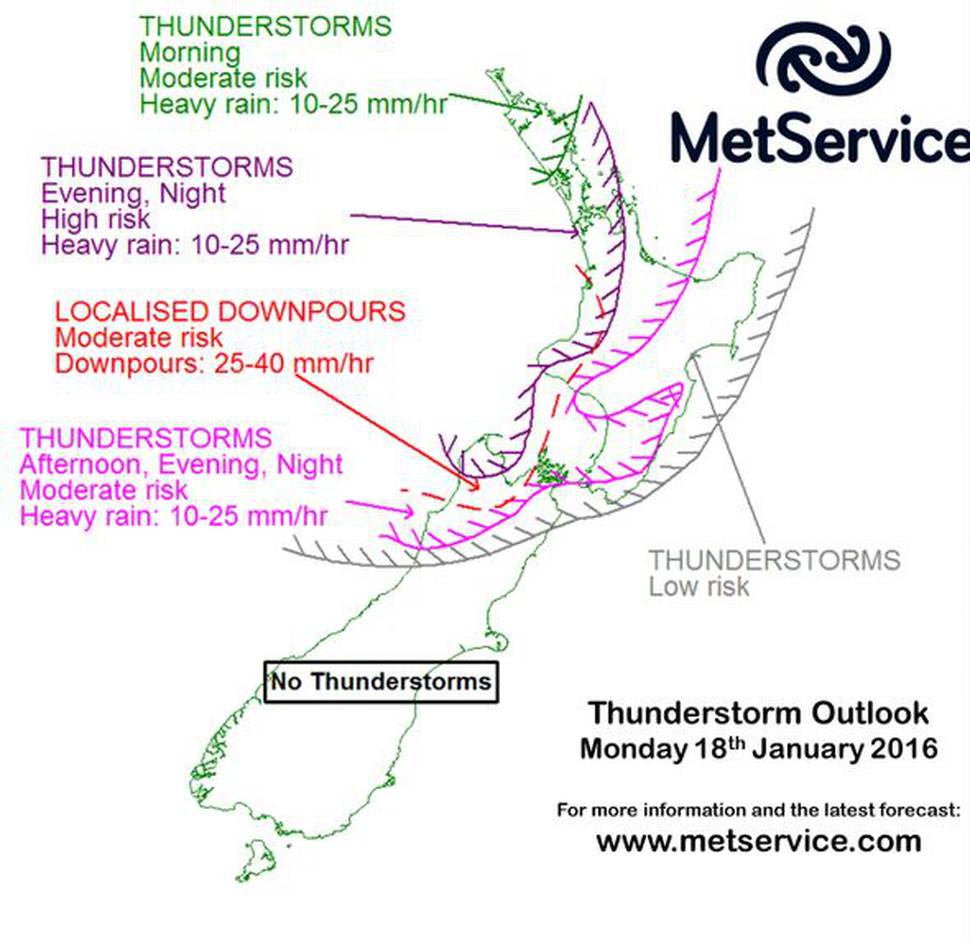 "Consistent rain has come through, and the same weather system that affected Auckland will gradually make its way across the island."
In Nelson, Marlborough and Taranaki a period of intense precipitation lasting up to 15 hours was likely to dump between 100mm and 180mm of rainfall.
Ms Flynn said Rotorua and western Bay of Plenty were in for an expected 50mm to 80mm of rain tonight.
A severe thunderstorm warning was issued for Wellington and surrounding areas today, with the storms expected to be accompanied by very heavy rain and damaging wind gusts.
Weatherwatch head analyst Philip Duncan said the conditions were an anomaly during El Nino.
"The hottest, driest, weather is typically over the next eight weeks. However El Nino seems to be spluttering a bit over the North Island. It feels more like La Nina."
Mr Duncan said the wet weather would be welcome in areas that had been affected by arid conditions, especially farmers.
"The drought in Canterbury remains in force, but even Canterbury has seen some rain this month, and more coming overnight and tomorrow [Tuesday]."
"This wet weather will also bring moisture into other dry regions such as Otago, Wairarapa and other lower and inland North Island areas, these areas all need rain."
Forecast
Whangarei:
Mainly fine, chance shower. Northwest breezes. High 27 Low 16
Auckland: Early rain, then mainly fine, chance shower. H 26 L 17
Tauranga: Morning rain, chance heavy, then odd shower. Northerly. H 24 L 17
Wellington: Rain easing to few showers morning. Northerly strengthens. H 22 L 16Source: