Fire crews from across the Waikato were called to a large blaze in a Hamilton restaurant this morning.
Emergency services were called to Domaine Restaurant, on Victoria St, just before 2.30am today.
Smoke could be seen billowing across the city as more than a dozen fire appliances brought the fire under control.
Fire investigation officers sifting through the charred remains of the Hamilton eatery have made gains in their investigation.
However, Waikato fire safety officer Kevin Holmes said they were yet to determine a cause of the blaze.
Mr Holmes said they'd managed to pin point the area of origin to the rear of the restaurant - however that contains the kitchen, store-room and office.
"We will be resuming our investigations tomorrow and working alongside an insurance investigator and an electrical engineer, which is standard practice. You have to have an electrical engineer for a fire of this magnitude."
In a restaurant there was a number of appliances, so now it was a process of elimination for those and other potential causes, he said.
Resident Emma Joe woke up and could smell smoke and looked out the window to see a "frantic looking taxi driver".
"I could just smell smoke coming from under those shelter bits and told these guys (her flatmates) to get out," she said.
Miss Joe and her flatmates stood across the road and watched firefighters try to bring the fire under control.
The trio were hopeful their apartment, two doors down from Domaine, would escape any serious damage.
Fire northern communications shift manager Colin Underdown said the fire was called in at 2.26am and was a "third alarm", meaning appliances are drawn from the greater Hamilton area to assist, including Ngaruawahia.
Domaine Restaurant has been operating for many years and is highly regarded in the city.
It is understood owner Jeff Dunstan couldn't immediately be reached by emergency services about the fire.
Murray and Wendy Whatford, who own The Christmas Heirloom Company next door to Domaine, were also at the scene. They were alerted to the fire by their security company and had an anxious drive into town thinking it was their business on fire.
They said they could see the smoke as they made their way in from Gordonton, on the northern outskirts of the city.
Waikato assistant fire area commander Darryl Papesch told the Herald at the scene they were alerted by the occupants of a two-storey apartment which sits at the rear of the restaurant.
"On arrival we noticed fire in the very back of the premises on Barton St. Upon entry we found it well-involved in fire."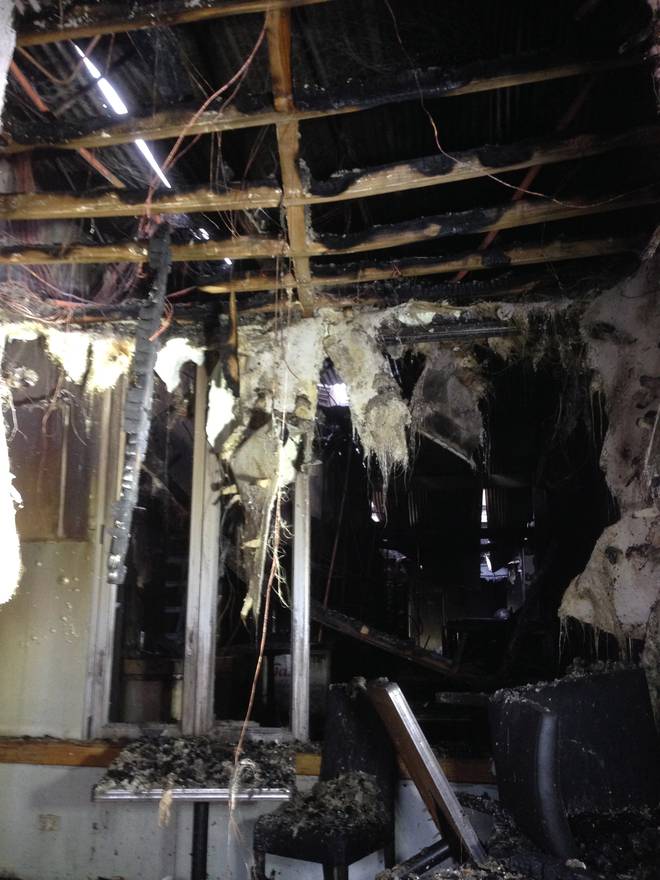 The blaze eventually spread throughout the entire restaurant and into the apartment above.
It also crept into ceiling void of the neighbouring building but that was quickly extinguished.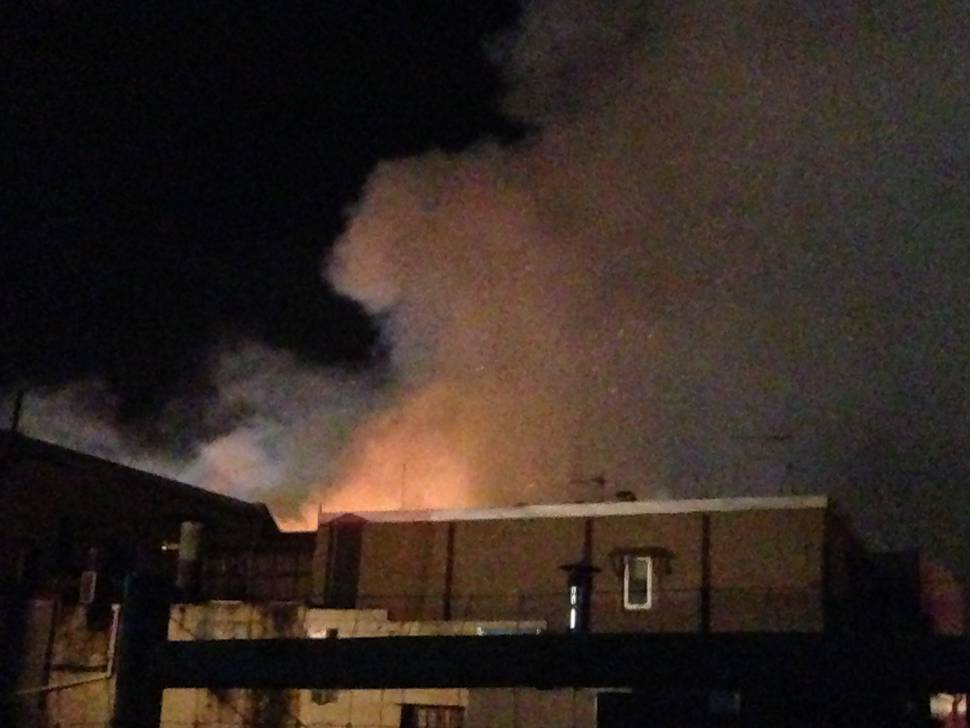 Mr Papesch said they helped evacuate the occupants who were inside, while others made their own way out.
About 60 firefighters, from Cambridge, Ngaruawahia and Hamilton, were helping fight the fire.
The blaze was eventually brought under control about 4am.
It's the third large-scale fire of a Hamilton restaurant in the past three years, after the Vilagrad Restaurant and Winery fire in July and Pumice Restauant, Te Rapa, in December 2013.
Pumice has since re-built and is now aptly called Ember Restaurant.
Minor flooding can be seen in neighbouring businesses Azzurra Fashions and The Christmas Heirloom Company.
A firefighter confirmed both would also have been affected by smoke, which has seeped through both sides of the restaurant's walls.
Domaine building owners Brian and Raewyn Milicich, who also live in an apartment above an adjacent building, were standing wrapped in blankets on the footpath still in shock about what happened.
Mrs Milicich said they were alerted by the noise of the firefighters outside.
"Brian said it will be the (street) cleaners but when I opened the door we could smell the smoke."
The couple quickly grabbed some clothes as the smoke poured inside before making their way out.
The couple have owned the building and the attached apartment since about 1998.
Jane Hailwood, co-owner of Azzurra Fashions, arrived at the scene about 6am to find her shop flooded which she said was due to a burst water main.
Mrs Hailwood said they would have to wait for insurance assessors to get into the shop before knowing how much damage had been caused.
Domaine Restaurant owner and chef Jeff Dunstan was still in shock when approached by the Herald this morning.
Standing across the road with wife Hayley and daughter Isla, 1, he said seeing his beloved restaurant completely destroyed by fire was surreal.
"It's everything that you work for as a chef, to own your own restaurant."
He was unaware of the blaze until one of his chefs visited him at home about 6.30am today, with him arriving at the scene a short time later.
Mr Dunstan said he had been chef and part-owner at the restaurant for four years before owning it solely for the past 18 months.
Although the fire was still sinking in, he said he was insured and was keen to re-build.
In the meantime, he has his second cafe, Domaine at St Andrews, to keep him busy.
However, his biggest concern is what to do with his 18 staff who work in the city business.