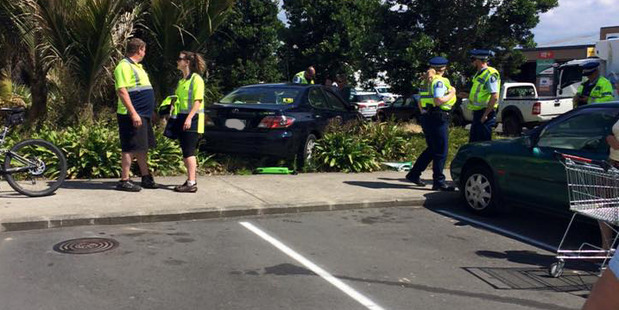 A group of about eight people heaved a car off a young girl who was run over in a carpark by a learner driver today.
The car's teenage driver, aged about 16, was having a lesson with her mother at a New World carpark in Whangamata when she accidentally accelerated instead of braking, driving over the footpath and into a garden, trapping the girl in the process.
DO YOU KNOW MORE? EMAIL THE HERALD
Peninsula Panel & Paint's James Hope said about eight people - including himself, his brother Fergus, another staff member and the local courier rushed to the scene to lift the car off the girl.
"They just got it high enough to get the girl out... They pulled her out, there wasn't any room under there. I don't know how she was still alive."
He said he heard screaming and saw the car - then ran out to help. The girl was under the car about two or three minutes before they got her out, he said.
A St John spokeswoman said they were called to the scene at 10.43am and the girl was rushed to Thames Hospital in a moderate condition.
New World's checkout manager Jamie Porter guessed the girl was under 10 years old.
She said she was first alerted to the incident when a customer ran into the supermarket asking staff to call an ambulance.
"We ran outside and found the girl was on the kerb by then. They had a towel round her and they were comforting her - telling her everything was okay.
"She could move her feet and her toes - but she was a bit cut and bruised."
Ms Porter said in the meantime, the girl's uncle - who she thought had taken the group of children on their scooters to get some lunch, was pretty startled by the incident.
"He was trying to organise the other kids at the same time - they were all upset, and he was running around trying to make them all happy, he did a really good job," she said.
The young driver of the car was also upset, Ms Porter said. "She was quite shaken up about it all, I heard her saying to her mum 'I'm never driving again.' It would have scared the life out of her - it would have done that to the best of us.
"It was plain and simple an accident. She was a learner driver, she had her fully licensed driver in the passenger seat, she had her 'L' plates up, she was all legal and it was just a very unfortunate event."
Police said the girl was with her parents at the hospital, and was "looking good," though the incident had been "very scary and traumatic for everyone involved".
Senior Sergeant Peter van de Wetering of Waikato police said an investigation into the accident was ongoing and would determine "if there was any liability," and what could be learnt from the incident.