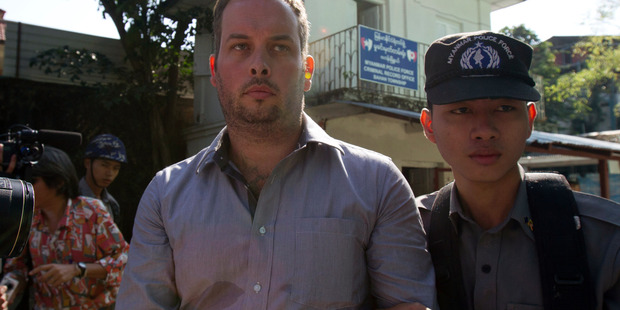 A New Zealander jailed for insulting religion in Myanmar says he will appeal against his conviction.
Philip Blackwood, 32, and two locals were charged in December over an online ad for the V Gastro tapas bar which featured a picture of Buddha wearing DJ headphones.
At court in Myanmar's former capital Yangon today, they were each sentenced to two-and-a-half years in prison.
The sentences included two years of hard labour for insulting religion and six months for disobeying an order from a public servant, AP reported.
After the verdict, as he was led to a police van, Blackwood told reporters he would appeal.
Outside court, a handful of monks and hardline Buddhists reportedly gathered to hear the verdict.
Bar worker Blackwood, from Wellington, has been detained for months in Myanmar's notorious Insein Prison.
He and bar owner Tun Thurein, 40, and manager Htut Ko Ko Lwin, 26, were arrested on December 10 after the Buddha image resulted in a backlash on social media.
A complaint was then made by an official from the country's religious department.
The bar managers immediately cancelled the advertised event and apologised.
According to Myanmar law, anyone who attempts to insult, destroy or damage any religion can be punished by a maximum of two years in jail, with another two-year penalty for those who try to insult religion through the written word.
Myanmar, a majority Buddhist country, has had a number of recent outbreaks of religious violence, with minority Muslims among the targets.
Blackwood, originally from Wellington, had lived in Yangon previously but returned to New Zealand for a year in 2013.
His first child, a daughter named Sasha, was born in Wellington last August. He and his partner Noemi Almo returned to Yangon to live in October.
Blackwood's partner, who also works in Myanmar, and their 6-month-old daughter remain in the country.
Speaking from Wellington, Blackwood's father Brian said his son should have been found not guilty because it was not an intentional act.
"We were advised not to go over - just to let the justice system take its course, which we have done. Now we're absolutely gutted by the ridiculous decision that's been made by the judge over there.
"There's no way that Philip would do anything like that maliciously - it was just a stupid mistake that he made posting that image."
Brian Blackwood said under Myanmar's laws, the act had to be proved to be malicious for his son to be found guilty.
He said his son was not aware of Myanmar's strict rules, and had consulted co-workers to see if it was alright to post the image.
Brian Blackwood said he hadn't been able to make any phone calls to his son since his arrest.
"We have managed to get one letter from him."
He said his son was in isolation at prison, and the Red Cross was only able to check in on him a month into his detention.
His lawyer also had very limited access, with Blackwood's first visit coming more than two weeks into his detention. The next lawyer's visit came a month after that, and there had been only three visits since.
The family has been advised the appeal process could take one month.
- NZ Herald / Daily Mail / Newstalk ZB