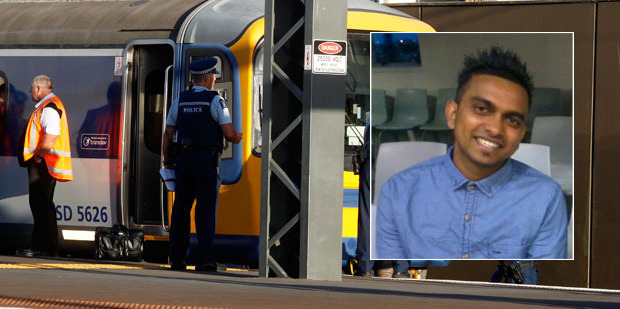 A 24-year-old man killed by a train at an Auckland station was texting friends minutes before he died just metres from his apartment.
Tejas Patel had caught the train from Henderson, where he works at a Spark store in WestCity Mall, and was leaving the Morningside Station in Sandringham.
His best friend Pouria Asjhari, 22, said Mr Patel, known as TJ, lived in the Morningside apartments 600m down the street from the train station and often listened to music on his phone while he commuted to and from work.
A KiwiRail spokeswoman confirmed two trains were at the crossing at just before 7pm when Mr Patel crossed and Mr Asjhari said it was likely he waited for the first to pass and did not see the second.
"He often listened to music on his phone, so he must not have heard the sirens and bells and crossed after the first train," he said.
The pair previously lived together for three years in the Morningside apartment, and were texting minutes before the accident.
"It's hard, there are so many questions arising from this."
Mr Asjhari said his best friend's death had devastated their tightknit circle of friends, formed after the began working for Telecom, now Spark, about five years ago.
"We were colleagues to start and we built a big friendship from there and there was quite a lot of people who are quite shocked by what's happened.
"Our whole core group of friends came from me and him meeting in the first place, we all became really close in the last five or so years."
Messages of condolences were flowing, he said.
"He was a great man, a good person to be around. He really cared about people, he cared more about other people than he cares for himself.
"He didn't have much family here."
He said Mr Patel was looking forward to a trip to India in March, where he would reunite with his parents who he hadn't seen in five years.
"He was really connected to his parents and he loved his mother dearly."
It was not yet clear whether his parents would come to New Zealand.
Police spokeswoman Noreen Hegarty said the investigation into Mr Patel's death was ongoing, but there was nothing to suggest it was deliberate.
The station where he was hit has also been the site of a number of serious incidents in recent years.