Crowds gather in Ashburton to remember the two women gunned down at Winz office.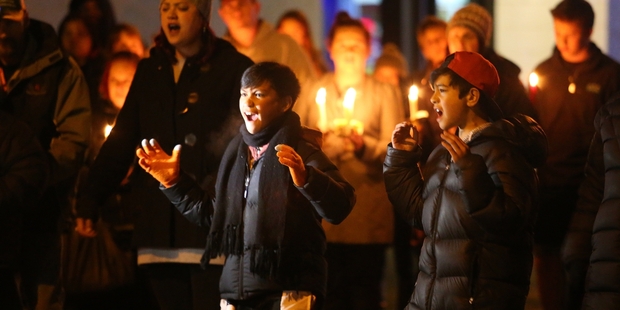 Surrounded by friends at the club where they spent most Thursday nights, Peggy Noble's partner of 11 years stood in her honour.
Two hours later, hundreds gathered to do the same at a candlelight vigil for Mrs Noble and her workmate Leigh Cleveland who were gunned down in their workplace in Ashburton on Monday.
Donald Campbell stood in silence as the Ashburton Returned and Services Association paid a solemn tribute to Mrs Noble.
President Maurice Baker, his voice shaking with emotion, called the packed club to attention.
He explained earlier to the Herald that usually when a member died, they were honoured at their funeral.
"But given the tragic circumstances, we felt it was important to do this tonight," he said.
Mr Baker described Mrs Noble as a loyal and regular member of the club and offered condolences to her partner Mr Campbell and her family.
Mr Campbell, flanked by friends, sat at a back table adorned with a simple vase of fresh flowers.
At 8pm, after the sun had set across Ashburton and a frosty chill settled over the small town, locals gathered near the Winz office for a candlelight vigil.
Organised by local woman Kay Johnstone, who wanted to pay tribute to the slain women, the vigil was "a sign of respect and remembrance" for the victims and "a time to be together".
By 8.10pm about 300 people had lined the edge of the cordon. People of all ages - from toddlers in prams to the elderly on walking frames - held candles aloft as Ricky Smith, the wife of a former New Zealand Army Band mate of Ms Cleveland, played several poignant songs.
The first, a cover of Josh Groban's You Raise Me Up performed by the Army Band. Then, Sarah McLaughlin's I Will Remember You.
Mrs Smith then invited members of the public to share their memories of the women.
Owen Dunstan worked as a security guard at Work and Income following the 2011 quake and was especially close to Mrs Noble.
"She was the first in the office in the morning and the last to leave at night ... I will miss her greatly. She always had a smile, there wasn't another like her," he said through tears.
One of Lindy Curtis' daughters told organisers her mother, who was also shot in the attack, was doing "very well" but remained in hospital.
Mrs Noble's step-granddaughter Amy Coats posted a message on Facebook before the vigil. "She is my step-grandmother and was so loving and accepting of us. We were planning sometime in the next year to see Peg. My heart stopped when I heard of what had been done to her."