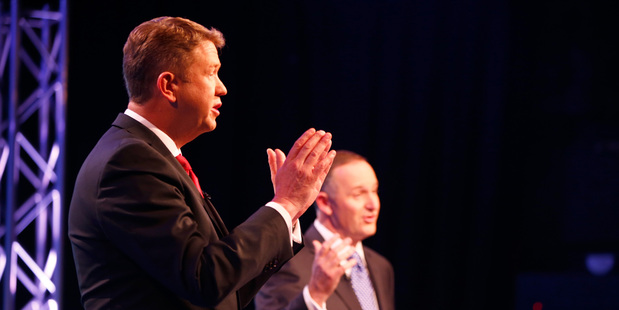 The election campaign tax battle turned nasty yesterday as Prime Minister John Key accused David Cunliffe of punishing grieving children with his capital gains tax and the Labour leader fired back an accusation that Mr Key had broken his promises to Pike River families.
Mr Key dialled up his attacks on Labour's capital gains tax plan after Mr Cunliffe on Wednesday said inherited homes would start being liable for the tax from one month after the death of the owner.
Mr Cunliffe yesterday backtracked from that, saying the period before the tax took effect would be worked out by an expert panel.
But with Mr Cunliffe already off-balance over whether family homes held in trust would be liable, Mr Key pounced.
He said Mr Cunliffe was telling New Zealanders "if they don't sell the family home of their deceased parents, then within one month they will have to start paying a capital gains tax".
"That is a horrifying thought ... Everyone would accept the number one priority when your parents pass away is not whether you should be out there flogging off the family home so you don't have to pay a capital gains tax; it's dealing with all the emotions and stress and issues that go with losing a loved one."
Labour's policy states the tax is payable only on the gains after a home is inherited, and only when the home is sold if it's not used as a primary residence.
Mr Cunliffe said Mr Key had been proved wrong when he said the tax would apply on family homes held in trusts, and he was now scaremongering.
He rejected Mr Key's suggestion the tax was insensitive to grieving family members.
"This is the Prime Minister who said he'd do everything he could to help the Pike River families and then left them high and dry, so I don't need sensitivity lessons from John Key."
Mr Key said the Labour Party should have the answers on its "stupid policy" by now.
"We are now a couple of weeks out from an election; this is a key policy for Labour and they can't tell New Zealanders when it comes to their number one asset, their family home, how it will be treated."
However, Mr Key continued to offer little detail of his own on the tax cuts he has been talking about in recent weeks.
National reveals its fiscal plan on Monday but Mr Key said that would give New Zealanders only "a broad sense" of what tax cuts may be in the offing.