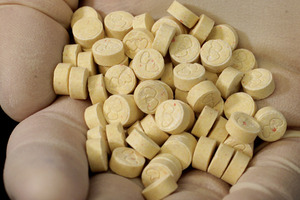 An Auckland businessman who made millions of dollars selling pills which mimicked Ecstasy - which he claimed to be legal - has been convicted of drug crimes in a case described by one judge as the "battle for the legal high industry".
The 40-year-old, who still has name suppression, sat at the top of a designer drug syndicate and was one of eight men found guilty of various Class-C drugs charges following a High Court trial which started in May.
The network identified by detectives during Operation Ark imported powder from China which were pressed into tens of thousands of pills every week and sold for around $40 each.
Drugs identified include compounds which the police alleged were "substantially similar" to Ecstasy and can therefore be considered analogue controlled drugs, which are Class-C substances.
Defence lawyer Ron Mansfield, who represented the ringleader in Operation Ark, told the jury the chemicals used in the ring's pills were not illegal and his client believed he was running a legal-high enterprise.
"People wanted a product that was lawful but had a mimic or sensation of a controlled drug. Customers wanted to be able to purchase such a product to experience a sensation or effect without risk of arrest."
A raft of charges against the 10 accused were withdrawn following evidence presented by their lawyers, however the jury ultimately agreed with the Crown case led by David Johnstone.
The ringleader and the syndicate's head chemist, who also has name suppression, were both found guilty of 14 charges of the importation, possession and sale of Class-C drugs.
A third man with name suppression was convicted of 13 similar charges while Johnny Be Good, a lieutenant of the ringleader, was found guilty of 14 charges.
Stanley Leone was found guilty of guilty of nine charges but acquitted on five.
Minor players Grant Petersen, Kevin Challis and Kelvin Cress were each found guilty on one or two charges of selling Class-C drugs, while Matthew Giordani and George Reed were acquitted on all charges they faced.
Appeals against the guilty verdicts will be lodged on legal grounds on behalf of the ringleader and others.
The upper echelon of the designer drug ring made millions of dollars from the enterprise and the court heard that $800,000 cash was discovered in a wardrobe when the police raided the chemist's home in 2011.
More than $20 million in assets were restrained by police, including multimillion-dollar homes, expensive cars such as Bentleys, BMWs and Range Rovers, jet skis and a boat.