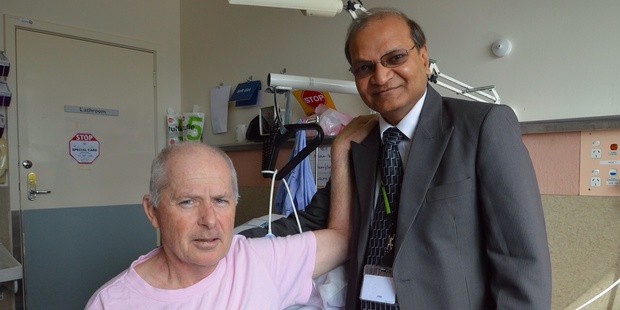 A surgeon at Waikato Hospital was surprised to find a patient he was treating in the emergency department was the man he trained under nearly 20 years ago.
Sydney-based cardiac surgeon Bill Meldrum-Hanna, 61, was in Turangi on holiday when he fell from his bike, breaking his ribs and vertebra on August 15.
Nand Kejriwal was the cardio-thoracic surgeon assigned to his case when Mr Meldrum-Hanna arrived at Waikato Hospital.
It was only when the operation was finished Mr Kejriwal realised his patient had a familiar name.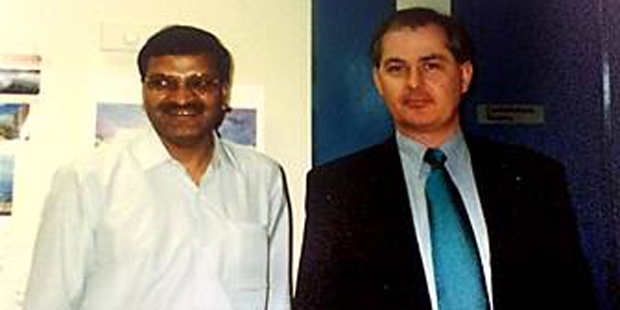 Nand Kejriwal with Bill Meldrum-Hanna in 1996.
"As I was finishing the case, the scrub nurse gave me a sticker of the patient," Mr Kejriwal said.
"I looked at the surname Meldrum-Hanna and made a comment that it was a very unusual surname and the only other time I heard it was in 1996, when I worked in Sydney's Westmead Hospital as a fellow and one of the cardiac surgeons, his boss, was named Bill Meldrum-Hanna."
Mr Kejriwal spoke to Mr Meldrum-Hanna in the emergency department and realised he was the same cardiac surgeon he had trained under.
"Here I was, meeting him after a gap of 18 years when he was under my care," Mr Kejriwal said.
Mr Meldrum-Hanna asked his former student: "Did I teach you well?" to which Mr Kejriwal replied: "Bill, I am managing your chest injury the way you taught me. Time will tell."
Mr Meldrum-Hanna was discharged last Friday and is now recovering at his bach in Turangi until he is able to fly back to his work in Sydney.
- APNZ