Who came out on top in tonight's minor party leaders' debate? The Herald's top political correspondents make their picks.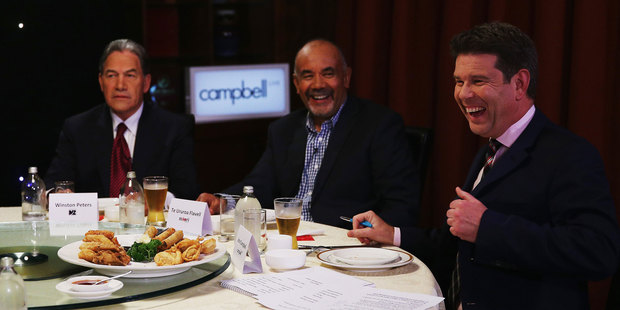 Toby Manhire
Winners: Winston Peters & Metiria Turei
After the fisticuffs of Christchurch, the dinner-party format was a welcome relief: civilised, jolly, informative - fortune cookies, even. All the pretenders scrubbed up well. Winston seemed even to have had a haircut. The camera angles weren't conclusive, but it's safe to assume at least half were sporting coattails.
Everyone did well; including energetic John and lazy Susan. Winston - chuckling, cranky, avuncular - outperformed young pretender Craig. Metiria Turei, at ease but still impassioned, was the other standout.
The mutual fondness between Peters and Turei, seated beside each other, was clear. Who knows, maybe the Greens and NZ First could work together after all.
Audrey Young
Winner: Jamie Whyte
The idea of setting up a dinner debate with seven political rivals in a Chinese restaurant was not without risk.
A food fight was never among them; formality and awkwardness could have ruined the night.
But the intimacy of the table and John Campbell's bonhomie made it special. After a guarded start, Winston Peters had the assured air of someone who knows he'll be back.
Those with the most to gain were Conservative Colin Craig, yet to crack 5 per cent in any poll, and Act's Jamie Whyte who stands on the cusp of oblivion.
Whyte seized every opportunity to fight his cause of smaller Government. It might not save his party but he was the winner.
Fran O'Sullivan
Winner: Colin Craig
Colin Craig will have John Key weighing up whether it's time to finally have that chat about East Coast Bays.
Craig put the ball firmly in John Key's court by predicting the PM would win and the Conservatives could help that happen. There was a clear cleft between the parties who want to tax more and those who want to tax less.
His opponents rolled their eyes at Craig's apparent political naivety.
But by dialling back some of the moralistic overtones, Craig positioned the Conservatives as a possible support partner to National.
Smart work Colin.
John Armstrong
Winner: Te Ururoa Flavell
The measure of who won the debate had to be different by virtue of the venue, a Chinese restaurant. Whereas some leaders behaved as if they were addressing a 500-seat corporate lunch, the Maori Party's Te Ururoa Flavell was the perfect dinner party guest - polite, relaxed, convivial, engaging and, above all, quietly amusing. He made the points he wanted to make with more telling effect than some others who had forgotten to change out of their ideological strait-jackets.
Exempt from that classification were Act's Jamie Whyte - who wisely did not take the event or himself too seriously - and Winston Peters, who looked like he had ensconced himself in his seat with the intention of staying long into the evening.
The Conservative Party leader Colin Craig had obviously turned up in order to get the better of Peters, his main rival, face-to-face. It seemed only a matter of time before one invited the other to settle things outside in a not so Christian manner.
Read more:
Minor party leaders debate wrap-up: Peters refuses to pick PM