Wanganui Collegiate prefect served in Bombay and Middle East with Bengal cavalry regiment.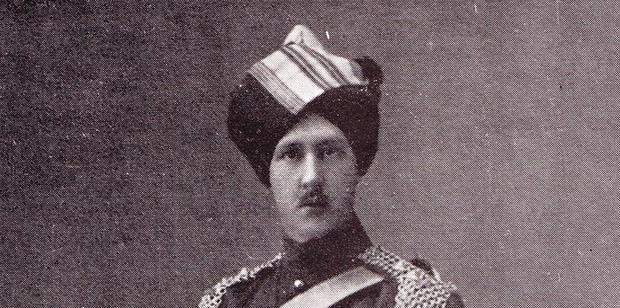 25: Colonial service
In the studio photograph Lieutenant Kenneth Thomson wears the splendid military dress of a British officer in the Indian Army.
Sadly, the bold colours are lost in the black and white image, but historic accounts offer descriptions of the uniform which the Wellington-born officer donned for the camera.
The striking turban, known as a lungi, was made of black cloth with gold woven stripes, wound around a red and gold skullcap or kullah. The head-dress often featured a piece of cloth hanging down at the rear called a paloo.
The khaki tunic Thomson wears was tied at the waist by a black leather belt covered by velvet and worn over a cummerbund decorated with gold stripes. A frosted gilt buckle with a silver badge kept the elaborate ensemble together.
Thomson's white-gloved hands rest on an impressive sword encased in a metal scabbard.
Straps attached to the officer's belt passed through the rings fixed to the scabbard to hold the sword in place when the officer was mounted on his charge. Unlike curved blades used to deadly effect by rank-and-file horsemen charging at the enemy, Thomson's metre-long weapon is a straight sword used more typically for thrusting and parrying attackers' blows.
Finally the tall officer wears highly polished riding boots, of the type he would have used during his service in a far-flung area of India, half a world away from the South Canterbury home of his parents, his father John, a bank manager, and his mother Annie.
They sent their son to Wanganui Collegiate, where he was made a prefect in his final year.
Lieutenant Thomson spent six years with the Indian forces, preferring the army life to the medical studies he undertook at Cambridge University.
Having graduated with a BA (Hons) he left England for the northwest Indian frontier in 1909, a region of unrest and trouble where many British officers cut their fighting teeth.
Thomson joined a Bengal cavalry regiment with the grand name of the 21st Prince Albert Victor's Own Cavalry (Frontier Force) (Daly's Horse), a unit formed in 1849. In colonial India Thomson earned a reputation as a fine all-round sportsman, with a "sunny disposition". He made friends easily, though few can have been fellow New Zealanders.
Some months after the war started, Thomson's regiment was ordered from Bombay to the Middle East where British forces were engaged in conflict with the Ottoman Army for control of the Persian oil fields.
By this time Thomson had been given command of a machine-gun unit. In early March 1915, though Allied troops held the upper hand in the Mesopotamia campaign, he met his end, killed in action as a battle raged for the control of Basra. He was 28.
His memorial can be found at Basra's Commonwealth War Graves Cemetery in what is now modern-day Iraq.
A year later, the war delivered a second blow to Thomson's parents in Geraldine. In July 1916 they learned that Alastair, their youngest son, a captain with Scottish regiment the Argyll and Sutherland Highlanders, had been fatally shot on the Western Front by a sniper as he directed his men in trench digging work.
To read the first 24 stories in this series, go here.