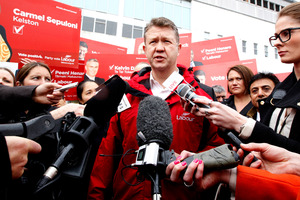 Labour leader David Cunliffe received widespread support while on the campaign trail in his New Lynn electorate today.
About 30 Labour supporters dressed in red gathered during on a drizzly morning at Avondale Market to support Mr Cunliffe as he campaigned in the wake of Judith Collins' resignation, and a strong performance in Thursday's leaders debate.
He said he had received an "absolutely wonderful reception".
"A cold, wet morning in Avondale, but a very, very warm spirit for a new government which Labour will lead, there's definitely a feeling in the waters here that it's time for a change," he said.
Mr Cunliffe wished constituents a good morning and offered a handshake to those who crossed his path.
After being given a green lei from a stall holder, Mr Cunliffe put it on over his red jacket, saying: "Red and green, not a bad combination", before moving on to pick up a bag of coconut buns for the kids.
Later at Titirangi market, working his way through the throngs of people browsing the rows of jams, pickles and trinkets, Mr Cunliffe was greeted with hugs and messages of support.
"Out in force today aren't you," a shopper noted. "Well done," said another.
Almost all seemed happy to see the Labour leader, with the few exceptions including a stall-holder who wanted to let Mr Cunliffe know she was "so over" this election.
"I'm over you guys behaving like children," she said.
Mr Cunliffe sympathised with the woman, saying Labour would "clean up this mess" only for her to respond that she wanted the current government to stay.
He then took advantage of a break in two musicians' jazz set to congratulate them on their "awesome vibe" before stopping to pose for another round of selfies with Labour supporters.
"I want to see you beat John Key," stall-holder Fellis McGuire told Mr Cunliffe. "I want to see you kick his arse."
"We're going to try and serve something up on a plate for you," Mr Cunliffe replied.
"Well, it is one friendly market to us, I have to tell you that," he said.
Mr Cunliffe said there had been "a real sense of momentum" following last week's leaders' debate.
A lot of Labour supporters now felt like they now had "got permission for the first time to say what they really think," he said.
The debate showed voters they had "a real choice between two possible Prime Ministers," Mr Cunliffe said.
In the afternoon, Mr Cunliffe campaigned for the ethnic vote, visiting two Sikh temples where he donned an orange religious headdress.
Speaking at the Supreme Sikh Society of New Zealand gathering in Takanini, Mr Cunliffe urged the community to vote for "positive change".
"My Labour party stands for a society where everybody has the opportunity to get ahead," he told the 200 people at the meeting.
Mr Cunliffe promised that under a Labour government, the Office of Ethnic Affairs would be elevated to a full ministry.
"We were shocked, absolutely shocked when our opponents the National Party downgraded the Office of Ethnic Affairs to little more than a brand within the internal affairs department, and that is not good enough," he said.
"Today I am renewing my commitment to you, if you elect Labour to government ... we will create a full Ministry of Ethnic Affairs with powers in health, housing education, law and order and employment including the unacceptable underemployment of skilled migrants."
Rupinder Singh, 44, said he was giving his vote to Labour after listening to Mr Cunliffe because he felt the party had shown the "most concern" for migrant communities.
Later, at a Sikh temple in Papatoetoe, Mr Cunliffe joined members for lunch -- sitting on the floor for a meal of roti, rice and curry.
He later adjourned to a meeting room where he met leaders and members of the community, and took the opportunity to introduce the other Labour candidates who were with him.
Mr Cunliffe said New Zealand was no longer just a bi-cultural society, but a "modern multicultral society" where everybody could live in peace and enjoy the best of each other.
A woman temple member thought Mr Cunliffe looked "far friendlier" in person than how he appeared in the media.
"At the Gurdwara we've had a lovely welcome, and some good conversations and good food," Mr Cunliffe said after the visit and before taking questions from reporters.
On Judith Collins, Mr Cunliffe said a "proper sacking" would have been better than a resignation.
"She's been allowed a graceful way out and let's see what the commission of inquiry turns up," he said, criticising Prime Minister's lack of action against the Justice Minister.
"I think it's too little too late and I think New Zealanders are gonna judge that in the ballot box on September 20."
- APNZ