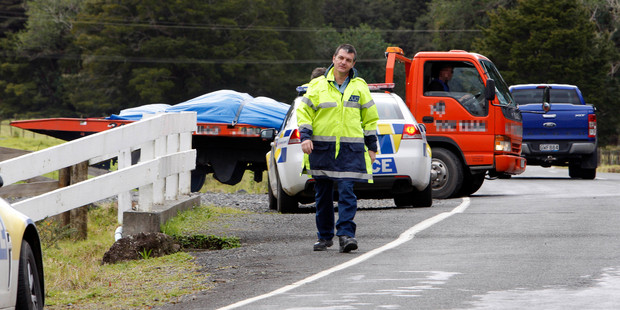 Three horses on a stretch of rural Northland road have been shot by an animal control officer as authorities take a tough line on wandering stock.
A stallion, mare and yearling were shot about 8am yesterday near Mokau, 45km north of Whangarei, on a section of road that has been a trouble spot for wandering livestock for 22 years.
Environment Northland manager Keith Thompson confirmed there had been three complaints about cows and horses on the road on Wednesday. Yesterday, he had gone to Mokau after another call and found the three horses, in poor condition, on the road.
He herded them into a gateway and shot one. The other two took off towards Pukapuka Rd and were eventually chased back to the gateway and shot. A local man became upset after the shootings and approached Mr Thompson. A small flat deck truck was used to load the animals which were to be taken to a council landfill.
"Someone will be killed, it's going to happen. The 5 per cent of the community who do not look after their stock are going to be 100 per cent responsible for that death," Mr Thompson said.
"I have a problem with healthy animals being shot because of the lazy and irresponsible actions of human beings."
He was yet to establish who owned the horses. Whangarei police spokeswoman Sarah Kennett said police were called to the scene and spoke to both parties.
"The matter was resolved peacefully without incident and no one has been charged and there were no assaults," Mrs Kennett said.
For safety reasons, police have been assisting animal control staff to call-outs. Since June 14, cattle and four horses have been shot at Mokau.
Wandering stock at Mokau has been a problem for 22 years and the Whangarei District Council is still searching for solutions.
Council bylaw co-ordinator Mike Henehan said the issue was first raised to council in 1992 and the underlying issue and the principal cause was poor fencing and gates being left open.
"The properties concerned are sometimes multiple-owned Maori land and establishing ownership [of the animals] is difficult as the stock do not have tags," Mr Henehan said.
Options being explored by council included installing cattle stops at a cost of $20,000 per unit, or building a small stockyard to keep wandering stock in before trucking them away, which would cost $6000 plus staff time.
Some stock could be sold to recover costs and spraying the grass on the roadside so the wandering stock had no food would also be considered, Mr Henehan said. In the meantime, animal control would continue to shoot all beasts on the road.
For more articles from this region, go to Northern Advocate