A novice skier probably would have died after tumbling 35 metres into the crater of Mt Ruapehu if not for a chance meeting with two local men who decided at the last minute to extend their day on the snow.
He is now urging others not to make the same mistakes he did - a call his rescuers are also making.
Wellington photographer Ivan Molina-Trigueros travelled to the mountain on Monday last week, August 18, for a day of skiing.
Feeling comfortable after a few runs down Turoa Skifield he decided to hike to the top of the crater.
He watched other skiers descend the inside of the crater, and thought he would do the same.
"I felt confident. I never thought, 'I cannot do this, I am out of my depth', not even when I was sitting at the edge of the slope with a pretty good vertical drop," he said.
"As soon as I dropped I fell backwards and I started rolling ... I was freefalling.
"I remember rolling and seeing one of my skis and leg going up to the sky and rolling like a rag doll."
He was not injured but faced a treacherous journey out of the crater. One ski had come off as he fell, and he needed to climb back up to retrieve it so he could ski to safety.
"During the climb I had time to think about all my loved ones, in particular my wife, Astrid," he said.
He got his ski and retraced his steps back down the crater. By then it was 5pm and fear had started to creep in as daylight began to fade and the temperature dropped.
"I start feeling that I am not moving at all. I have nothing left in my body. At this point I seriously start thinking that getting out of the mountain before nightfall is slim."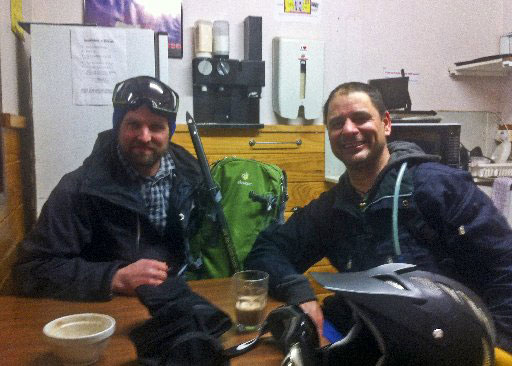 Ohakune skiers Scott Nation (left) and Darren Corowa
About that time Ohakune skiers Darren Corowa and Scott Nation, on their way back to the skifield, decided even though it was getting late, that they would head down the crater.
"We could see Ivan down in the crater. Scott realised the potential of the danger he was in. He said to me, 'This guy's in trouble, we need to help him down or there could be a fatality'," Mr Corowa said.
He said Mr Molina-Trigueros was "very unprepared" for the conditions and exhausted.
"He was totally spent ... he fell about 20 times." Mr Nation skied ahead to raise the alarm, leaving Mr Corowa to carry on down the mountain with Mr Molina-Trigueros. They eventually got off the mountain at 7.30pm - tired and cold but unscathed.
Mr Molina-Trigueros said: "I remember apologising to them because I knew I had risked their lives unnecessarily. I knew I had been irresponsible to try this on my own. I thanked them for staying with me, getting me out of the mountain and, above all, for saving my life. "For me, they are heroes. I don't know what would have happened if they hadn't come my way."
Mr Corowa said the outcome could have been tragic.
"The mountain looks small and people underestimate it. It will take your life as quickly as Everest though."
He advised anyone wanting to explore outside the skifield to take an experienced skier.