Rachel Jenkinson
Community Spirit
Seeing the "wee smiles" on the faces of sick children is what motivates Rachel Jenkinson.
She set up Operation Sugar, a free nationwide service providing birthday cakes for sick children, while on maternity leave with her third child in 2012.
"It just took off really quickly and now we have got 700 bakers nationwide. Social media has been absolutely brilliant for that."
The bakers offer their time once a year to create and deliver the cakes to children suffering serious illnesses requiring hospital stays.
More than 300 cakes - some of them elaborate - have brought smiles to the faces of sick children.
"We had a Spider-Man cake that was valued at more than $1000. It had LED lights in its eyes and was absolutely amazing."
Auckland woman Pauline Midgley has seen the delight the cakes bring for sick children, including her grandson Jayden, who has a brain tumour.
She describes the cake made by baker Heather Goode for Jayden's recent 5th birthday as "mindboggling and almost too good to cut".
"We know the value of life, and just how precious it is, and to have these people come in who don't even know you, it really does touch you."
Mrs Jenkinson, from Balclutha, says won the award for the South Island, making her a national finalist.
She is hoping to expand the service by widening the criteria to include children with disabilities.
Cancer survivor devotes 25 years to helping other battlers
Jenny Edwards
Lifetime Achievement
As a cancer survivor, Jenny Edwards knows it's the little things that help people battle the disease.
The Whitianga woman had cervical cancer at 45 and breast cancer at 47, and it was during her recovery that the idea came to set up a support group.
Pride of NZ Awards: Jenny Edwards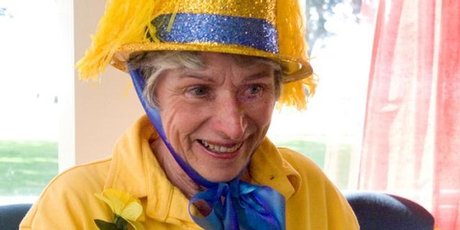 "I was visited by an oncology resource nurse from Thames Hospital and she said to me, 'I think there is enough work here to set up a group', so that is how we got off the ground."

For 25 years Mrs Edwards has run the Mercury Bay Cancer Support Group, "from a basket that sits on a dining room chair". She is standing down from the role this year.
"The cancer problem, in my lifetime anyway, is not going to go away and it is just so rewarding seeing that people appreciate your friendliness and the little things that we do." This volunteer work earned her a nomination in the Lifetime Achievement section of the Pride of New Zealand Awards.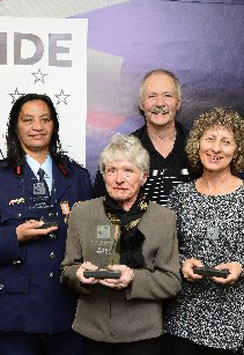 Jenny Edwards, centre. Photo / George Novak

She won the regional award for the mid-North Island.
Nominator Ann O'Loughlin says Jenny is very modest. "She doesn't think she deserves any recognition, but she has been the leader. She has worked very quietly, doing her best to help people."
The group assists, on average, eight people at any given time.
"It is a befriending situation and we offer financial and emotional support. We don't means-test and we are non-judgmental," Mrs Edwards said.
Travel is one area where assistance is given, proving petrol vouchers. "We are three hours from Waikato Hospital and often when a patient is having cancer treatment they can go from Whitianga to Hamilton twice a week."
Most of the funds come from a used-book stall. Other assistance includes paying for groceries, phone and power bills, car maintenance, doctor visits, prescriptions and a night nurse.
Voting is now open for the TSB Bank People's Choice Award. The Herald will profiling each of the 24 national finalists. Voting closes 11.59pm on September 7, with the awards to take place on September 10. Decide who you think is the most deserving. You are only able to vote once, so choose wisely. You can register your vote here.
* For more awards information, visit: prideofnzawards.co.nz.