People, products, passion and profit are vital ingredients in Wild Appetite's drive for success.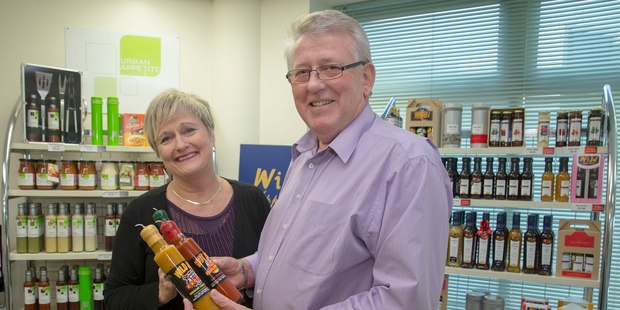 Adding new zest to longstanding food brand Wild Appetite has been an Auckland couple's recipe for success. Peter McCracken and wife Clare bought the 25-year-old preserves and condiments maker from its original owners, another husband and wife team, in 2009.
With more than three decades' experience in the food business, McCracken says he was attracted to Wild Appetite's strong brand in the gift and speciality end of the market.
A food technologist and marketer by training, McCracken says he looked at starting a business from scratch, but Wild Appetite gave him a head start.
"Entrepreneurial people are successful starting from scratch but it does take time and resources to take something from zero and what Wild Appetite gave us was a platform to grow from." But even with a great foundation, the ownership change coincided with a recession and noticeable changes in consumer behaviour, says McCracken.
Harking back to his marketing background, he focused his attention on the four Ps of the marketing mix, giving it his own flavour based on people, products, passion and profit.
The people part of the equation includes not only the 14 staff at the company's Albany manufacturing base, but the likes of his Danish distributor, whose love of the brand has contributed to its success in the northern European market.
"We're not a large multinational manufacturer therefore we need to rely on, particularly in an export market, distributors within the local region," says McCracken.
He regularly visits overseas markets to set the sales and marketing direction, and says it's important to have distributors who share your passion.
The high dollar hit the company hard but McCracken says even less profitable markets such as Britain and Germany are worth staying in, because when the exchange rate tips it will reward the work put in over the past five years.
Asia is also on the radar, with a small amount of product going into Hong Kong, says McCracken, but Wild Appetite needs to do more work developing flavours and possibly on packaging, before it tackles the market in a concerted way.
The award-winning Wild Appetite product line-up is extensive, covering sweet and savoury sauces, relishes and other condiments, and each and every one is continually under the performance spotlight.
"We've had to develop new products, we've had to delete some products and come out with new, innovative products that the consumers actually want."
A trend for Mexican food has resulted in Wild Appetite's "hot as" chilli sauce becoming a No1 seller. McCracken says the next step is about creating complementary products - mild and medium versions of the hot sauce - and product packaging for the gift market, in this case a box set of the three flavours, aimed at guys but likely to be bought by women.
"We continually look at what is performing. Can we extend the family or is it a new product group? Or is it an extension within a group?" Two new lines have been added: Urban Appetite, an everyday, gourmet range for the supermarket and non-gift market, and a food service range under the Wild Appetite banner.
McCracken says the food service range, launched two months ago at the Fine Food New Zealand trade show in Auckland, was two years in the making, including getting the packaging and product line-up right.
He says that in the first year of owning Wild Appetite a very tight rein was kept on costs, but that meant not having the resources, particularly people, to take the company to a new level.
While still keeping an eye on ensuring growth is driven by profitability he says the turnaround strategy included more investment in the business. "I'll be honest and say we've had some rough times, we've had some hard times, but we're confident in the future.
"We know where we're going, our vision is very clear and we've increased our staff in the last year by a quarter."
When they bought the business five years ago, about half the production was contracted out. McCracken says 99 per cent of Wild Appetite products are now created on-site, which meant buying equipment but gives them the control needed to make changes in the business.
Wild Appetite is now in a position where it can take on contract packing for other businesses. It's a lower margin option but does provide volume to fully utilise the staff and resources they own, McCracken says.
Even with the additional work, manufacturing is still not at capacity.
"I think that's the challenge that we have got. We can still grow this business with not too much more capital injection."