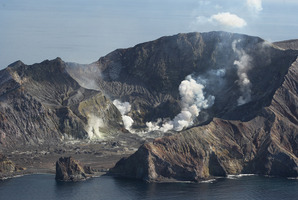 A spate of small earthquakes that struck within an hour around White Island is not unusual and is nothing for the public to worry about, GeoNet says.
GeoNet seismologist John Ristau said five tremors hit the area between 9.25am and 10.18am.
They measured between 2.5 and 3.3 in magnitude.
"Around White Island typically you get these swarms of earthquakes that happen periodically, where you get these smaller magnitude earthquakes happen and then it dies off for a time and then more earthquakes pop up again.
"It's nothing really unusual," Dr Ristau said.
A small change to the volcano's magma chamber might have sparked the tremors, he said.
"The reason why you have a volcano is there is some sort of tectonic unrest there.
"It's hard to say exactly what would trigger the swarm."
Department of Conservation officer Steve Brightwell said he had not had any reports of damage on the island.
All of the earthquakes were centred within 5km of White Island and all were shallow -- less than 10km deep.
On its website, GeoNet said it had not recorded or observed any changes on the volcano since the earthquakes started.
"Yesterday we measured volcanic gases at the island and the results do not show any changes in the amount of gas being released from the volcano."
But it said White Island remained in a state of volcanic unrest.
"A range of eruptive activity can occur under these conditions and eruptions can start with little or no prior warning.
"Larger eruptions can eject mud and rocks and may impact the crater floor area."
The Volcanic Alert Level remained at Level 1, GeoNet said.
- APNZ