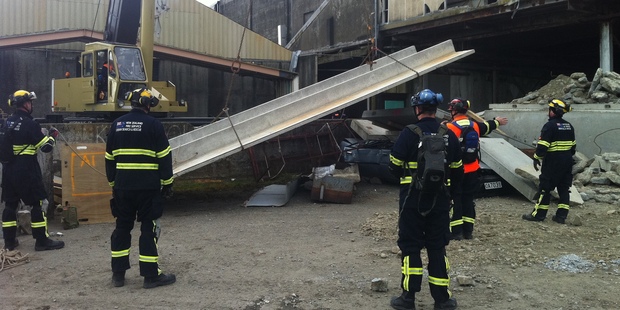 The seriously injured spy lays trapped in the crushed car.
Clambering rescuers glance nervously at a 50 metre-high chimney stack that could collapse in an aftershock.
As a medic treats the trapped man, he tells them his secret: in the car are firearms and highly-classified documents that lay bare New Zealand's military capabilities.
The Urban Search and Rescue (USAR) workers pass the message up the chain of command and continue working to free him.
No time to ponder the strange find: time is of the essence.
A local crane contractor is commandeered. Under cautious USAR instruction, a two-tonne concrete slab is slowly lifted from the wreck and the mysterious victim is rushed to a makeshift hospital.
New Zealand's largest ever USAR training exercise, at the decommissioned Longburn freezing works outside Palmerston North, is supposed to look real.
After learning a raft of lessons from the deadly February 22, 2011 earthquake, it now wants to become a United Nations-accredited international team.
"It's not been ideal for us to go [on overseas deployments] without accreditation. It's about New Zealand doing its bit," said Fire Service chief executive and national commander Paul Baxter.
After the quakes, a coroner who looked into the deaths of eight people who died before they could be rescued from the six-storey CTV Building collapse made eight recommendations aimed at improving search and rescue operations.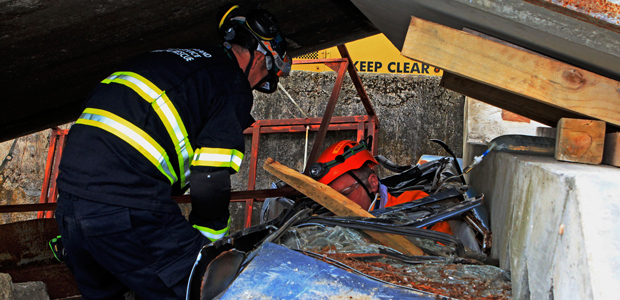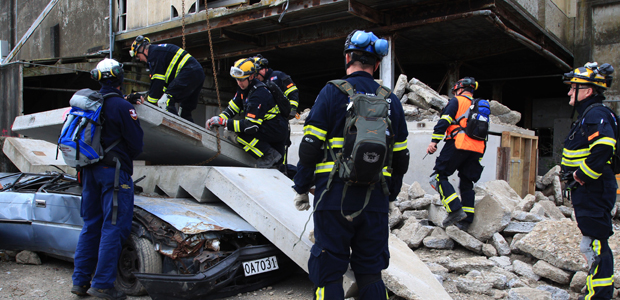 The recommendations included joint training exercises and specialist training for USAR technicians.
New Zealand Fire Service also bought new high-tech gear, including core drills, search cameras, listening devices, and cutting equipment.
A permanent 17-tonne cache of gear - which includes enough for a 67-strong team to be utterly self-sufficient for up to 10 days - is now stored at Auckland ready for international deployment within hours.
All of the new training, initiatives, and gear has been put in practice at the exercise in and around Palmerston North this week.
The scenario is based on a major earthquake that has devastated a city - much like the Christchurch quake of 2011 where most of this week's crew served.
The "earthquake" struck at 3.03am on Monday morning.
USAR task force teams were deployed from Auckland, Christchurch and Palmerston North.
Today and tomorrow the teams are carrying out mock - but highly realistic - rescues as a dress rehearsal for next March when a UN assessment will see whether New Zealand is ready to gain official international classification.
The old Longburn freezing works is an ideal location for the exercise with its half-demolished buildings and piles of debris.
In one scenario, a man lies trapped in a "pancaked" building while rescuers dig in from above.
Nearby, a volunteer amputee has been recruited to lie in the recreated danger zone while "meat and bone"donated by the Mad Butcher has been flayed about for heightened realism.
A surgeon crawls into the confined space to perform the emergency "amputation".
Dummies act as dead bodies for rescuers to remove while trying to reach "survivors".
Around 100 USAR members - 90 per cent of whom are firefighters, with the rest made up of a surgeon, medics, engineers, and MFAT officials - use their full range of skills: tunnelling and cutting through layers of twisted steel, concrete and timber; using sniffer dogs, listening gear, and tiny cameras.
But more important than anything, as one senior official put it: "Always have a plan A, B, C, and D."
- APNZ