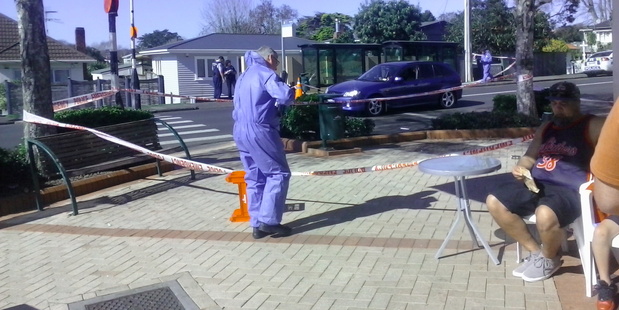 A trail of blood spread over about 1km in a North Shore suburb may have come from more than one person in a series of fights, police say.
The blood spatters on Beach Haven Rd and Rangitira Rd in Beach Haven initially led to fears one person may have lost a life-threatening quantity of blood.
Blood had first been found at Beach Haven wharf at 3.30am, Detective Senior Sergeant Brett Batty said.
A 17-year-old man was arrested near the wharf, however he was uninjured, and police were unsure what had occurred.
Five bloodied sites, spread over a distance of about 1km, were cordoned off this morning.
Cordons were in place at a bus stop on Rangatira Rd, the pavement across the road, a superette owner's car on Beach Haven Rd, the driveway and footpath of 77 Beach Haven Rd, and the road leading to the ferry landing. A trail of blood linked each site.
Forensic investigators were inspecting each scene.
A search of the foreshore, estuary and areas surrounding the wharf found no one in an injured state, Mr Batty said.
"We're still working to determine exactly what took place in the early hours of this morning, however from what we know now we believe it's quite possible that the blood is the result of a number of fights between several parties, and that the blood may not necessarily be from the same person," Mr Batty said.
No one had presented at hospital with injuries consistent with a fight.
The blood had been cleaned up by 6pm, Rangatira Rd resident Susy Oommen said.
Ms Oommen's house is behind a bus stop where blood was spattered on the ground.
"I heard a sound around 11 last night, people talking, the sound of metal or a toy being dragged," she said.
About 100m away, superette owner Param Patel was told by police this morning not to touch his blood-spattered car as they were taking fingerprints.
"I saw a crowd at the bus stop at 10.30pm. They were all wearing black," Mr Patel said. "I didn't hear any [unusual] noises, it's always noisy, always crazy here."
Police checked CCTV footage from his dairy, as well as footage from a nearby liquor store.
Store worker Daniel Philips said customers had reported arguing and "a whole lot of mailboxes smashed."
Residents on Beach Haven Rd, who asked not to be named because of fears that gang members were involved, they heard noises during the night.
"We woke at 1am, heard a kerfuffle and a loud crash," one resident said. "They sounded like big fellers, they had loud voices."
The resident said men were arguing about sleeping with someone's wife. The sound of motorcyles was heard.
Police want to hear from anyone who has information that could assist. Call the North Shore Police on 09 477 5000.
- APNZ