Convicted rapist says it's a miracle he is still alive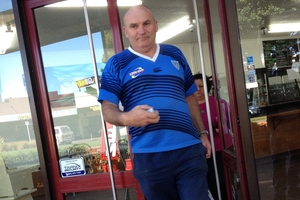 Former cop and convicted rapist Brad Shipton has a rare and aggressive form of dementia.
The 55-year-old, described as a "predator" by an investigator into the Louise Nicholas sex scandal that rocked the police force and cost millions of taxpayer dollars, told the Herald on Sunday it was a miracle he was still alive.
Fellow former policeman Bob Schollum, who was also jailed for rape, has cancer, the Herald on Sunday has learned. Schollum is understood to be in remission and works at a car yard in Hawke's Bay.
But Shipton is unemployed and causing concern among the community over his increasingly erratic behaviour.
One of his closest friends confirmed he was diagnosed with frontotemporal dementia. It's a degenerative condition with no cure, which over time affects behaviour, speech and movement.
"It's getting progressively worse. It's terrible for his family — they have gone through a hell of a lot."
Shipton, who lives alone in a Tauranga flat, has sparked community concerns after being accused of shoplifting at a supermarket and seen on the grounds of a Te Puke primary school.
New World supermarket bosses said he was found concealing items of food and police were called.
A businessman, who asked not to be named, grew up with Shipton and said he had been skulking about Fairhaven school several times.
"I live near the school and have seen him there. It's an inappropriate place for Brad to be. The female teachers get very stressed when this man is on the grounds watching them." Fairhaven principal Paul Hunt declined to comment.
Te Puke retailers told the Herald on Sunday they had banded together to monitor Shipton's moves.
Logan Bragg, a dairy farmer who once worked with Shipton in Tauranga and Rotorua, described his former boss as "articulate, aggressively unrepentant".
"I want Shipton out of our town because I believe he is still a danger to the community."
Shipton talked to the Herald on Sunday at a pokie bar.
He said he had found God and went to church twice a week. He was only at the school to relive fond memories. "I loved that school. I was there from 5 years old. My happiest memories are living in Te Puke." He denied he was guilty of shoplifting. And he showed no remorse for his crimes.
"The bottom line is I think to myself if I had ever done anything wrong in my life I can accept what's happened ... but I tell you ... I have never, never, ever harmed anyone."
The Louise Nicholas story was re-told in a TV One drama last week. The three men she claimed raped her — Shipton, Schollum and then-Assistant Police Commissioner Clint Rickards — were acquitted but Shipton and Schollum were jailed over a separate historic rape allegation.
Nicholas said yesterday she hoped Shipton had the support around him he would need as his condition deteriorated. "I really don't care what happens to these guys because I have moved on and done what I have had to do."
Schollum could not be reached for comment.