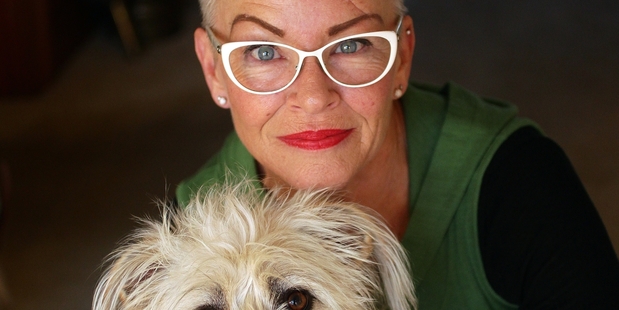 Lynda Veth scalped herself in a freak home accident — by tripping over her dog in the dark and cracking her head open on a door frame.
Auckland City Hospital Emergency Department registrar Dr Paul Blakemore took two hours to sew her head back together and he and other medical staff are astonished about the unusual injury.
"It was a vast wound — like a shark bite," Blakemore said.
He described the "scalping" as a large laceration deep into the skull and "running from her left eyebrow right back to her occiput [the back of her head]".
Veth still cannot believe what happened.
At 7.30pm on July 25, the 53-year-old walked down the dark hallway of her 1910 Auckland villa and tripped over her sleeping 25kg german shepherd-cross, Cassie. Holding a cappuccino, she fell head-first into a wooden door-frame.
She was unable to move, and her head felt wet, so she called her son, Jordan. He had headphones on and she had to kick a door to get his attention. When he came out and found his bleeding mother sprawled on the floor, he yelled, "Dear God, Mum", and called 111.
An operator told him to apply pressure to the wound with a clean tea-towel, and when the ambulance arrived 30 minutes later, the ambulance officer said: "Oh my gosh, you've scalped yourself."
Veth still didn't fully register the extent of her injury. "I thought he was overplaying it."
Jordan called his dad, Marcel, an architectural draftsman, at a work function, and he arrived at Auckland City Hospital before the ambulance.
She was put in a neck brace, had a head scan and was stitched back together.
Three weeks since the accident, the retail assistant enjoys telling customers her tale. She doesn't blame Cassie.
"I felt sorry for her because she literally didn't know what hit her."
The home is where most most harm occurs. About 700,000 injuries each year costs around $600m — well over a third of the roughly 1.7 million ACC claims.
Veth hopes her story reminds people to take care at home and "I've learned to turn the lights on."