Tenants face increases as landlords offset rates rises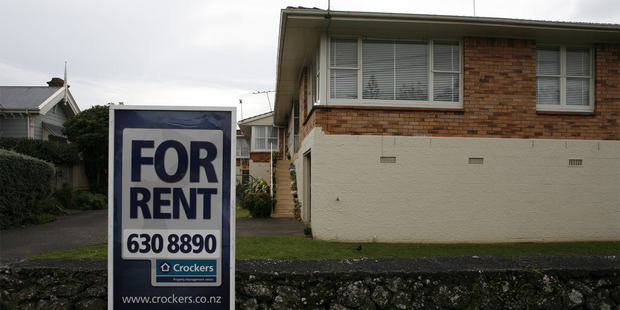 Auckland landlords are hiking rents amid fears of big rates increases next year on the back of spiralling property values.
The Property Investors' Federation says landlords are already trying to claw back rising costs and predicts average rents for a three-bedroom Auckland home could jump up to $40 a week.
Crockers Property Group says many landlords will inevitably pass any increase on to tenants.
"They're in business to get a return and that's, unfortunately, the nature of the beast," said chief operating officer Dean Cates.
Auckland Council has released initial findings of the latest revaluation of 525,000 properties. Values have surged 33 per cent on average since 2011 but the council stresses they are not the only factor determining rates.
Read more:
• Values soar: The impact on you
Property Investors' Federation executive officer Andrew King, an Auckland landlord, is already putting up his rents to cope with rising costs and says he knows other landlords doing the same.
Increases in landlords' expenses, including rates, mortgage interest rates and insurance premiums, could push up rent on a three-bedroom Auckland house by between $20 and $40 a week, he said.
"I think it will be tough on tenants and some won't be able to afford it. It's already happening in South Auckland and some tenants will start moving in with each other and we'll see more overcrowding."
However, Mr King said Real Estate Institute material showed it was $136 a week cheaper to rent than to own the average New Zealand home.
A Crockers survey of landlords found rates increases were the factor most likely to trigger a rent hike, but other costs such as insurance, property maintenance and interest rates were also relevant.
Mr Cates said half of all surveyed landlords were not planning to hike rents in the next six months, but more than a third planned to put them up by at least 3 per cent.
Some landlords may decide to hold rents in order to keep good tenants.
July statistics show that the cheapest Auckland suburb to rent a three-bedroom home was Pukekohe ($379), while the most expensive was Ponsonby ($763).
The Federation of Family Budgeting Services said landlords shouldn't use rates as an excuse for a blanket increase in rents, with thousands of Auckland families already struggling financially. "Rent is invariably the biggest proportion of their income, leaving not enough to feed and clothe the kids," said chief executive Raewyn Fox.
The founder of the No More Rates campaign, David Thornton, said property revaluations for council rates were unfair and had to be reformed.
He wanted all properties given a "Council Tax Value" as at the last valuation date and for all values to increase by 2 per cent each year.
"This would result in a more stable valuation environment without the three-yearly bout of stress faced by many ratepayers who appear bewildered by the justification for changes to their rates bill."
A council spokesman said setting rates was complex. Councillors had to weigh people's ability to pay with the need to invest in infrastructure for a rapidly growing city.
Herald readers have their say
Chris: "Residents in Auckland are finding it increasingly difficult to afford homes in the region, let alone sustain increased rate notices.
If values have increased, say, 30 per cent but wages have not, then the rating model is flawed to fail and force Aucklanders to sell and move out of the region, especially those who are retired or semi-retired."
Grant: "We and many of our friends and family certainly are afraid of what the new rates
will be. It's almost 40 per cent over the last three years so far and our incomes have not increased in that time. There doesn't seem to be a discussion on why rates are so tied to property values. How does a person's property view affect the cost of providing council services to them?"
Rosemary: "I got my last rates about 10 days ago. My rates have gone up 9 per cent. [I] was paying $424; now it is $466.11 - CV and LV are the same. I'm not looking forward to November."