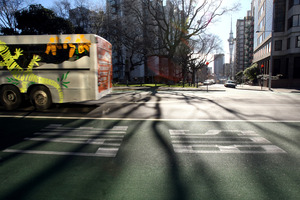 Network lines company Vector wants its faults crews' vehicles to be able to use Auckland's bus lanes and T2 lanes in order to get quickly to the scene of storm damage, building fires, or motor accidents instead of having to wait in traffic jams like other motorists.
The company's group manager network operations Les Parker said the time in getting the power back on, or making lines safe like during Auckland's four major storms this year could be reduced by up to 20 per cent where traffic congestion was occurring.
However, though the company looked after lethal high and low voltage lines running down roads and streets, did not fit the legal classification of a "first responder" in the emergency sense, like police, fire and ambulance.
Accordingly, they were not allowed to use bus lane.
"Our crew have to obey the traffic laws and they have to wait in queues like everybody else," said Mr Parker.
Vector chief executive Simon Mackenzie said the company had asked the Ministry of Transport whether it could use bus lanes and T2 corridor lanes.
"It would be just for emergency events when there is storm or when a car hits a pole, to give our crews the ability to have flashing lights and get through the traffic quicker.
"This has not found any traction.
"But for us to be able move around the city quicker is really beneficial.
In the June storm, when 175 km/h winds -- hurricane force -- hit Whangaparaoa, north of Auckland, Vector had advance warning of trouble brewing.
Mr Mackenzie said: "Our guys were out there straight away, because we were prepared for it."
However, it was hard to know for certain where position crews in the right places.
"You could say 'why don't you just put more people in around the areas' but we just don't know where the problem is going to occur."
The Herald understands that the company has on occasions resorted to calling the police to give crews an escort through clogged streets.
This happened when the December 2012 tornado struck power lines and properties in Hobsonville in West Auckland and crews were needed out there and fast.
Vector's desire to have use lanes as of right was sympathetically received by Auckland Council's civil defence and emergency management group committee and staff have been asked for a detailed report on current legislation on using the lanes.
"With Vector we all scream when the power is disconnected and if this means a 20 per cent better response time then it's a no brainer," said Councillor Calum Penrose.
Civil defence management director Clive Manley said an agreement was needed between Auckland Transport and the NZ Transport Agency and Vector and all critical engineering lifelines for use of bus lanes under agreed circumstances.
**************************
Why can't a power lines fault crew vehicle use a bus lane? Auckland Transport Traffic Bylaw 2012 allows emergency vehicles in bus lanes.
An emergency vehicles means a vehicle used for attendance at emergencies and operated by: an enforcement officer, ambulance service, fire service vehicle, civil defence emergency vehicle, defence force emergency vehicle.
The definition of an emergency vehicle is held within the Land Transport Act as is the use of bus lanes.
A bus lane is for the use of buses and cycles, mopeds and motorcycles.
The Act defines a bus as a passenger service vehicle that has more than nine seating positions (including the driver's seat).