Minister already has final warning over Beijing dinner and is refusing to comment.
John Key has put Judith Collins on her second final warning in five months over her "unwise" collusion with Whale Oil blogger Cameron Slater to torment a public servant even as the Prime Minister braces for an ongoing stream of damaging emails to be released during the election campaign.
Until yesterday, Mr Key was staunchly defending his Justice Minister over claims in Nicky Hager's Dirty Politics book that she acted inappropriately by passing details about public servant Simon Pleasants to Slater. The day after receiving those details in 2009, Slater launched a vicious online campaign against Mr Pleasants, who he suspected of working with Labour to embarrass Finance Minister Bill English.
Yesterday the person who claims to have hacked the emails which Hager's book is based on released Ms Collins' email to Slater in which she gave Mr Pleasants' name, job title and even phone numbers. That prompted Mr Key's grudging first admission that Hager's claims had at least some substance.
Of the email, he said: "The passing of the private information in terms of phone numbers, I think that was unwise of a minister."
Mr Key already had Ms Collins on a final warning since March when she was found to have misled him and the public about her Beijing dinner with Oravida boss Deyi Shi.
Facing growing calls to sack Ms Collins, he yesterday said the March warning remained in place. He denied she was now on her "last last" chance.
"What she's on is on her last chance after what happened last time."
He would not take action over Ms Collins' actions revealed in Hager's book because he didn't want to act "retrospectively".
"This thing is five years away."
But as Ms Collins' final warnings stack up, her political future hangs on what else is revealed in emails Mr Key expects to see released by the anonymous hacker.
Watch: Judith Collins: Key and Cunliffe react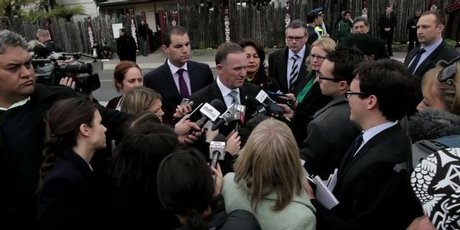 "You're going to get emails every day and get them right up to election day. Mark my words, we'll be talking about it every day ... the question New Zealanders will ask themselves is that what they want to talk about for the next four weeks?"
Ms Collins didn't want to talk about the email, in spite of Mr Key yesterday saying she was free to do so.
In the first response from her office to a string of messages from the Herald since Thursday, a spokeswoman said: "It would be inappropriate for the minister to comment further as complaints are before the police and the Privacy Commissioner." But Mr English was willing to comment, saying Slater's actions were part of "a style of politics that go with this blogger".
"It's not a style that I like and I don't participate in it. I wouldn't do it, I wasn't involved in any of it, it's not my style of politics, it's certainly not John Key's style."
Crusher's three strikes
1 March: Prime Minister John Key puts Ms Collins on a final warning and she is almost brought to tears after she admits she misled him and the public about her meetings with her friend and National Party donor Deyi Shi during a taxpayer funded trip to China last year. She pledges to resign if it is proved she lobbied a Chinese border official on behalf of Mr Shi's company Oravida.
2 May: Ms Collins launches an attack on TVNZ reporter Kate Bradford, accusing Ms Bradford of seeking her assistance to get her former partner into Police College. She later apologised and said she was wrong.
3 Yesterday: An email released by the "Whaledump" hacker backs up Nicky Hager's claim that Ms Collins colluded with Whale Oil blogger, Cameron Slater, in a campaign against a public servant suspected of aiding Labour attacks on Finance Minister Bill English.
For full coverage of the Dirty Politics scandal click here.