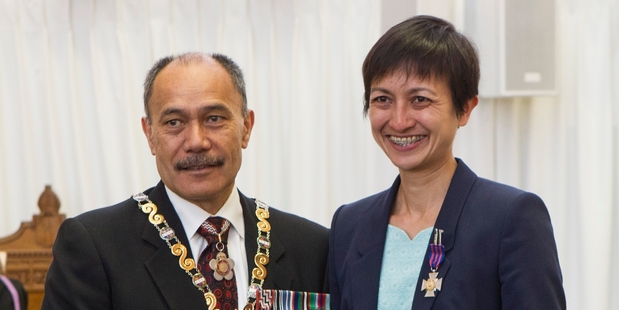 Selfless heroes who emerged from the aftermath of the devastating February 2011 Canterbury earthquakes were yesterday honoured with NZ Bravery Awards.
Five police officers, 18 firefighters, two doctors, a Navy Lieutenant Commander, and a local businessman have all been recognised with bravery medals and decorations for their extraordinary feats in the first 24 hours after the 6.3 magnitude earthquake.
Governor-General Lieutenant-General Sir Jerry Mateparae opened the awards ceremony at the Transitional Cathedral after paying his respects at the CTV Building site across the road where 115 people died.
"For those being honoured today, their actions reflect an extraordinary level of professionalism, of dedication, of compassion, and also of courage," Sir Jerry said. "And it is appropriate that we acknowledge them in this way for the service they have given the city of Christchurch, the people of New Zealand, and therefore the Crown."
Christchurch anaesthetist Dr Bryce Curran and Australian urologist Dr Lydia Johns-Putra have been awarded New Zealand Bravery Decorations for their part in the rescue of Brian Coker.
When they discovered Mr Coker, he was in danger of bleeding to death with his legs pinned between a concrete pillar and a collapsed floor section of the Pyne Gould Corporation building, in which 18 people died.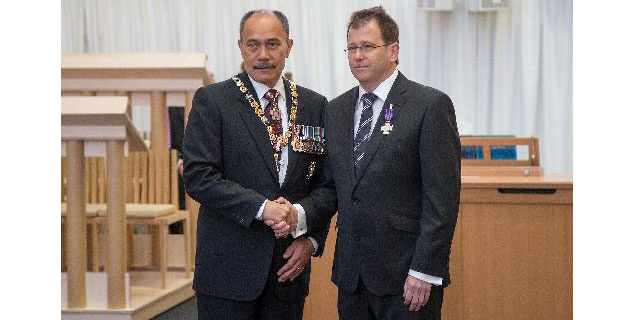 Dr Bryce Curran. Photo / Martin Hunter
In a cramped and unsteady space, the doctors and emergency services staff carried out a double amputation and saved Mr Coker's life.
Dr Curran described the ordeal as an "intense experience".
"There isn't really a rulebook for what to do in that situation. It's really just a matter of coming up with a plan, sticking to it and making use of what's available.
"It wasn't a nice place to be. The most threatening bit was to do the surgery. Lydia and myself had to crawl basically beneath a collapsed beam, which was quite a tight squeeze."
Firefighter Scott Shadbolt and then-Senior Constable Danny Johanson supported the doctors, helping with the hacksaw to complete the operation.
Both received bravery medals.
"Brian is very lucky that there were four people with individual separate skills who were willing to say 'yes' ... rather than just leaving him to die," said Dr Curran.
A posthumous medal was awarded to station officer Alan Butcher for his work in charge of the first firefighters to arrive at the CTV Building after its collapse.
The other 22 people to receive a medal were Stephen Acton, Michael Brooklands, Luke Burgess, Kevin Carr, Shane Cole, Shane Cowles, Kevin Crozier, Richard Green, Terrence Gyde, Craig Jackson, Michael Kneebone, Joshua Kumbaroff, Daniel Lee, Michael Lennard, Simon Payton, Richard Platt, Paul Rodwell, Steven Smylie, Cory Stewart, Anthony Tamakehu, Mark Whittaker and Michael Yeates. APNZ