Woman and daughter 'too scared to sleep' after pair who had robbed bar forced their way into her car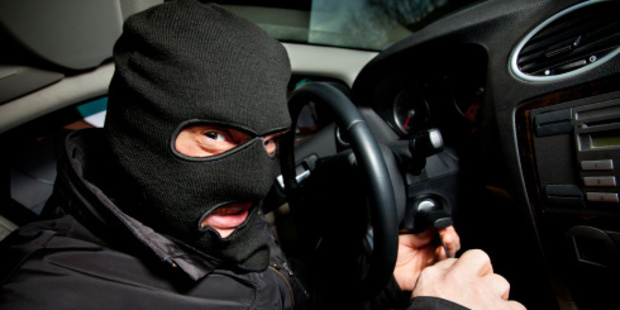 Amum and her preschool daughter were left too scared to sleep after being carjacked by armed robbers on the run in South Auckland.
Two men, who had just robbed the Sports Bar in Manurewa, forced the woman to stop her car near the Southmall shopping complex and jumped in the back seat carrying the bar's till.
One man grabbed the back of the woman's neck and the side of her face, told her not to look at them and yelled at her to "drive".
The 24-year-old woman, who did not want to be named, said her 4-year-old daughter in the front seat beside her was screaming in terror.
"The guy with the till jumped in front of my car. He yelled for me to stop ... then before I had time to think about what was going on, he'd jumped in the back of my car," she told the Herald.
"He told me not to look back and he's yelled to the other fella to get in the car. Then he grabbed the hood of my jumper and was telling me to drive.
His hand was touching the side of my face. He was just trying to get me to 'hurry up and drive'."
The robbers were telling her "to drive, to drive faster and not look back", as she sped about 70km/h within the 50km/h zone.
"My daughter started screaming as soon as he started yelling. She was just scared ... she had her head on my lap and she was just crying.
"I was just telling her I'd look after her and things would be all right."
They led her on a circuitous route - yelling at her to take lefts and rights and race to beat traffic lights - to the intersection of Wordsworth and Weymouth Rds in Manurewa.
After about 5-10 minutes, they got her to stop and jumped out. She said she watched them run across Weymouth Rd towards Friedlanders Rd and then she called the police.
"After they had run off, I turned around to have a look and there was a knife just left on the back seat. It looked like a steak knife.
"It was scary and it still is. I haven't been back to Southmall, I stay well away from there now. It's just changed everything."
Both mum and daughter had struggled to sleep in the days since the incident, which happened last Monday just after 11pm.
"It was terrifying," the woman said. "[My daughter] has been traumatised by it. She was just crying and crying and at night she won't sleep.
"And she thinks if we go out ... she thinks someone is going to get her."
Counties Manukau police are investigating the aggravated robbery on August 4 and the carjacking.
Anyone with information can contact Detective Logan Pene on (09) 213 9167 or anonymously call Crimestoppers on 0800 555 111.