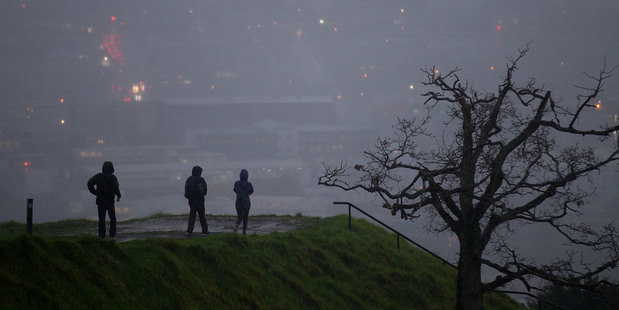 Auckland is in for a rough end to the week, as strong winds and rain blow in from tomorrow.
It's time to reach for the raincoats and scarves as a looming south-westerly front threatens to lower temperatures and has already prompted MetService to issue a severe weather watch.
Most of the country will be in for a taste of the nasty weather, with the southern regions hit the worst. The colder temperatures are also likely to bring a fresh blanket of snow to some parts, MetService meteorologist John Law said.
"We have got a watch out for pretty much most of New Zealand, from say Auckland southwards", Mr Law said, describing the front as a "classic south-westerly pattern".
"Many spots are likely to find some strong winds tomorrow ... pretty strong south-westerly winds, gusty and making it feel pretty cold, bringing with it some cold temperatures."
Snow is likely around Southland, Clutha and Banks Peninsula, as well as the Desert Rd area, with the watch warning of the possibility of more than 10cm of snow in six hours above 300m.
He warned people to wrap up warm if going outside, as the strong, cold winds would make it feel "much colder" than it is.
Auckland meanwhile is in for a "steady stream of showers".
"A wet start tomorrow, they ease off for a time and then more showers as we head in towards the evening," Mr Law said.
Tonight's king tide, expected at 9.30pm with a height of 3.7m, shouldn't be an issue with flooding in Auckland, he said, because winds were different to those during the April king tide event. However, motorists should still be cautious on low coastal roads.
Next week should be brighter, WeatherWatch said, bringing a ray of sunshine to the forecast, saying a large high pressure system will roll in for the start of next week.
"Sunday sees a mix of high pressure and settled weather along with the end of the southerly -- but that southerly may bring more showers to eastern areas of both islands this weekend as it heads northwards," WeatherWatch said. "The high will move into western areas on Sunday.
"Around Monday high pressure should dominate much of New Zealand, bringing settled and mostly dry weather to the country for Monday, Tuesday and Wednesday, and some in the east until late next week."
* For more details on the severe weather watch visit www.metservice.com
- APNZ