RSA members resist moving of wartime memorabilia.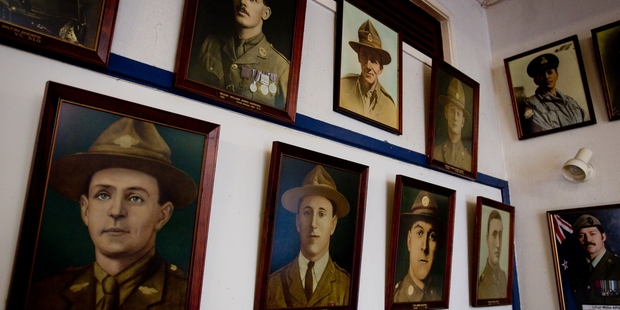 RSA clubs are moving plaques, paintings and photographs to "freshen up" bars and function rooms, angering vets. Some disgruntled veterans at Browns Bay, Auckland, have taken umbrage at club management shifting memorabilia from the main hall into upstairs rooms.
Shifted items include service medals and pictures of fallen comrades.
"Some of us feel this is all leading to an erosion of what the meaning of the RSA is all about," said one Browns Bay old-timer, who declined to be named. "We understand that times change but it is sad to see some precious photographs and memories being consigned to a cupboard somewhere."
The Browns Bay club has about 3000 members, mostly associates, as veteran numbers fall.
Club president Neil Pantry said the venue was adapting to a changing world. The main hall had been modernised to attract families.
"Some of the staunch old boys are not happy that we have shifted some of our stuff.
But we have created special areas such as sections for memorabilia from Victoria Cross winners and important medals earned by those in service of the country.
"We can understand the veterans' views, but we have had few complaints and we want the club to thrive not just survive."
Pantry added the nearby Takapuna RSA had sounded the Last Post in April, closing after almost 80 years.
David Moger, the RSA's chief executive, said the situation at Browns Bay was happening at many clubs. "An increasing number of RSAs are brightening up their facilities and introducing drinks like RDTs and craft beers," he said.
"We are encouraging the clubs to display their memorabilia in a more effective way. A lot of pubs and clubs these days are theme-based establishments and we have a brilliant, ready-made theme we should be making the most of."
Auckland RSA patron Dame Trelise Cooper said she supported the RSA clubs moving forward while keeping the heritage.
"Now that most of the Word War I and II veterans are no longer with us and it is now the veterans of Vietnam and Korea we are seeing today, we want to make the RSA to be for all the servicemen and the public," she said.
"We want people to feel the story of our servicemen and women, not just visiting a club for a drink."