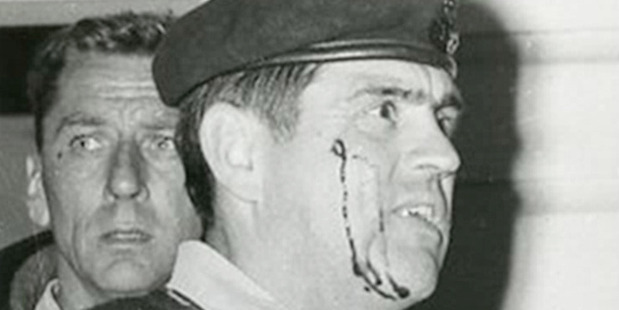 One of the armed offenders squad's founding members, former Detective Inspector Graham Perry, had his share of dramatic encounters.
Putting down several prison riots and taking down gunmen on the loose all formed part of his 21-year AOS career. But it was an incident in 1969 that was probably his hairiest moment.
In July that year, Mr Perry fired the first-ever shot by an AOS member, during a seven-hour siege at a house in Whangarei.
Armed with an "obsolete" WWII rifle and ex-air force pistol, and sporting all the protection overalls and a beret could offer, Mr Perry took down a gunman who was holding a baby hostage in a house and threatening to shoot the baby and himself.
"We were called up there to a situation," he recalled this week.
"An offender was holding a little baby hostage and his intentions were pretty apparent."
After trying to gain access to the house, the gunman fired a shot "that went over my head", Mr Perry said. "I was in a crouch position."
They withdrew from the house, and Mr Perry later fired his rifle into the gunman's shoulder, forcing him to drop his shotgun.
He then stormed the house and, after a desperate hand-to-hand struggle, disarmed him.
"He [the wounded gunman] grabbed the shotgun and jammed it into my throat and tried to pull the trigger," Mr Perry said.
"I had a feeling of tranquillity - which I didn't use in my report because I couldn't spell it," he said.
The Detective Inspector was struck in the face with the gun during the tussle and cut. He was later awarded a George Medal for his part in arresting the Whangarei gunman.
The earliest days were "rather akin to Dad's Army", Mr Perry said, but the AOS very quickly became an advanced force and a valuable police asset.
"It was a learning process, we gained experience from each operation. We were pretty efficient. Commensurate with the situations we were contending with in those days, we were matching up," he said.
"We worked as a team. It was a great team and a pleasure to belong to and an honour to serve."