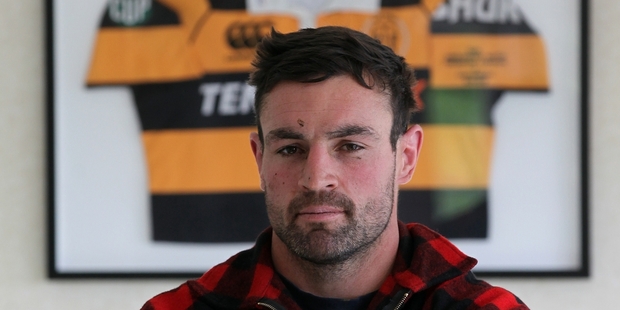 It wasn't being knocked out cold on the rugby field that bothered former Taranaki and Chiefs player Shane Cleaver the most - it was the blows that didn't render him fully unconscious he truly feared.
"I'd be on the ground and I'd lose my legs. I'd keep getting up and fall over then I'd get back up and then I could play on.
"It's a terrible feeling. Honestly, it's a state of panic. I'd be freaking out but I'd tell myself 'you've got to get up and keep on going'. I don't know why I did it. I think it's just a bit of shock or something."
Cleaver doesn't play rugby any more. These days he works on the family farm near Hawera, where he will soon be joined by brother-in-law Craig Clarke, the former Chiefs captain. The pair were forced into retirement within months of each other, both suffering severe post concussion symptoms. At 30, Clarke was in the first year of a lucrative three-year deal with Irish club Connacht. At just 26, Cleaver's professional rugby career was just getting started.
In today's Weekend Herald Cleaver tells his story - the first player from within the New Zealand rugby system to detail his experiences of playing on through multiple concussions.
His account bears striking similarities to that of Shontayne Hape, the dual code international forced into retirement after suffering multiple concussions playing professional rugby and league.
Like Hape, Cleaver received countless head knocks coming through the junior ranks.
"I couldn't tell you how many," he said. "I used to get them all the time and just run on. It would be a huge number."
Initially the blows didn't appear to do much harm. But two years after finishing high school he was knocked out cold in a club game with alarming results.
"I woke up and had a panic attack because I couldn't work out why I had a club jersey on and not my high school jersey. I thought I was back in school. I couldn't work out what was going on. That shit can't be doing your brain any favours."
Cleaver's habit of staggering on to the next ruck after suffering a head knock is equally frightening. Jordan Kemp, the teenage Northland club player who died during a match on July 6, was attempting to do just that when he collapsed with what proved a fatal brain injury. Kemp, a hooker with the Otamatea Hawks club, had been concussed earlier in the season and stood down for five matches.
Cleaver was closely monitored and frequently sidelined after suffering head knocks, at one point sitting out for a year. However he also failed to report some head knocks and under reported the symptoms to get back on the field. With professional contracts at stake, the pressure was immense.
"There is a fair bit on the line. That was always going through my head, that if I can get out and play this week I'll get a whole week's rest. I'd be dizzy, dazed. But I'd be pretty good so I'd get myself back out there. I'd say 'I'm good to go'."
Such under-reporting of concussion symptoms was common in this country, Cleaver said.
"I think it is huge."