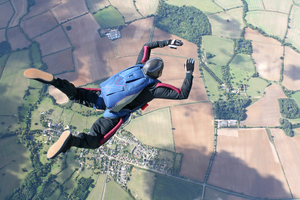 Skydiving in New Zealand is third on the wish lists of a new generation of British student travellers, new research says.
A study into student travel habits by gadget insurance provider Endsleigh found a large number of UK students travelled during or shortly after studying, The Daily Mail reported.
A road trip around the United States was their first choice of an adventure followed by an African safari.
More than 40 per cent of students wanted to travel to have a break from work or study, and 73 per cent were planning to do so in the next 12 months, the study found.
It also found that backpackers wanting a whole continent to travel through were most likely to stay in Europe, and those wanting to go to an individual country were most likely to go to Thailand, The Daily Mail reported.
New Zealand was ranked seventh on the list of desirable backpacking destinations.
Despite being cash-strapped, the average student took 1010 pounds (NZ$2010) worth of gadgets abroad, the study said.
It also showed students valued a good work-life balance, Endsleigh student markets manager Sara Newell told The Daily Mail.
"Fifteen per cent of the students we spoke to are even happy to work from home or whilst travelling to fund their trip," she said.
Tourism New Zealand spokeswoman Deborah Gray said a lot of students, including those from the UK, came to New Zealand, and so the youth market was quite a big focus for them.
Tourism New Zealand research had found 18 to 29-year-olds made up nearly 25 per cent of annual arrivals.
They typically stayed longer than the average traveller and got involved in a range of activities, which meant they were likely to spend more.
*****************
Top travel experiences:
1. Road trip through America
2. Safari in Africa
3. Skydive over New Zealand
4. Stay in a jungle in a treehouse
5. Walk along the Great Wall of China
6. Sailing around the Whitsunday Islands in Australia
7. Riding the length of Vietnam on a motorbike
8. North Pole trek
9. Hot air balloon ride over Serengeti
10. Mardi Gras in New Orleans
- APNZ