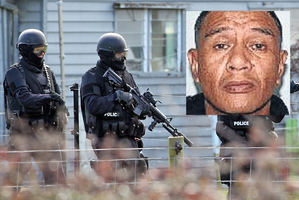 The fatal police shooting of a man who barricaded himself into a Taranaki hotel during a 13-hour hostage siege was justified, the police watchdog says.
The officer who shot Antony Ratahi was forced to take the shot in order to protect himself, fellow officers and the man's former partner, Marcelle Beer, Independent Police Conduct Authority chairman Sir David Carruthers said in a report released today.
Read more:
• Ratahi's daughter questions 'shoot-to-kill'
• AOS staff 'drank before shooting'
Police were faced with an incredibly dangerous situation and courageously put their own lives at risk to ensure the safety of Ratahi's hostage, Sir David said.
"Although the incident ended in the death of Mr Ratahi, police can be praised for their actions and approach in ensuring the successful removal of his hostage without injury to anyone else involved," Sir David said.
Prior to the incident on 15 July, 2011, Ratahi had recently been released from prison after serving a three-month sentence for assaulting Ms Beer.
Ratahi had a history of threatening and violent behaviour towards her and in preparation for his release from prison, police had prepared a safety plan, which included arranging for an urgent response if they were called to an incident involving her, the report said.
There was also a protection order against him, banning him from entering Opunake where Ms Beer lived and worked and was, at the time of the incident, on bail for breaching that order.
In the days leading up to the incident, Ratahi had attempted to obtain a firearm but managed to acquire only an air pistol, the report said.
On July 15, 2011 he drove to Opunake and entered the Headlands Hotel where Ms Beer worked as a waitress and ordered everyone except her out of the building.
He was recognised by staff who called police.
The area was cordoned off and police attempted to negotiate Ratahi's surrender through the night.
The following morning, police were able to draw him out of the hotel and a police dog managed to take hold of his leg.
Ratahi dragged the dog, still attached to his leg back inside and was followed in by armed officers.
When he reached into his jacket an officer, believing he was reaching for a gun, shot him once in the head, killing him.
"The officer who shot Mr Ratahi was justified in doing so. He believed that Mr Ratahi posed an immediate threat of death or serious bodily harm to his hostage, the officers nearby and the officer himself," Sir David said.
Acting Central District Commander Superintendent Sue Schwalger said Ratahi had placed the life of his ex-partner and officers at significant risk.
"All police staff involved were saddened that the incident had ended in tragedy, but there had ultimately been no alternative, given Mr Ratahi's violent and aggressive behaviour, which included explicit threats to shoot police and others."
The officer involved genuinely believed Mr Ratahi was armed and likely to carry out his threats, she said.
"Any situation involving an armed offender is extremely challenging and complex, and our staff work very hard to resolve every incident without the need to resort to lethal force."
- APNZ