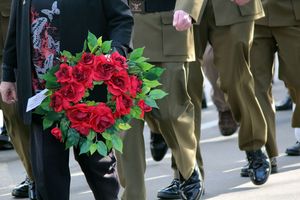 Philip Cryer now shares more than just a name with his grandfather.
Today, he laid a wreath to commemorate the centenary of WWI, a job his grandfather carried out at the same event 50 years ago.
Mr Cryer's grandfather, also named Philip Cryer, served in both the first and second world wars.
Throughout his involvement in both wars he played a critical role in the Post and Telegraph Department.
Today, The New Zealand Post Group paid tribute to the 234 members of this department who lost their lives during WWI.
The tribute, which took place in Wellington, began with a march along Queens Wharf to Te Papa, where a Ceremony of Remembrance took place this evening.
Mr Cryer, who is the General Manager of Telecom, said the opportunity to be part of the tribute was one of the proudest moments of his life.
"It's amazing, it's like synco-destiny. To get the opportunity to do this has bought back a lot of memories, really.
"I remember as a child -- I think I was four-years-old -- going to the cenotaph in Wellington and grandpa walked up ... he laid the wreath.
"I'm just absolutely blown away by it and just so proud."
The Post and Telegraph Department played a critical role in both world wars, as letters were the only way to communicate over distance. Around six million letters were sent each week.
Mr Cryer Senior enlisted in the New Zealand Army in 1916, and spent time behind the scenes before serving in Belgium and France. He was one of the few who came through unscathed after the fighting at Passchendaele.
Following his service in WWI, Mr Cryer returned to New Zealand and resumed work as a clerk in the head office of the Post and Telegraph Department in Wellington, his grandson said.
He went overseas again in WWII, on a special mission for his department with the rank of Interim Major.
Mr Cryer said his grandfather was posted in Cairo, where he reviewed the organisation of the New Zealand Army Postal services.
"It was a critical part of the service getting news back to New Zealand and from New Zealand," he said.
Today Mr Cryer wore his grandfather's medals, for services in both World Wars.
He also wore a Coronation medal his grandfather received from the Queen in 1953. He was one of only 37 New Zealanders to receive this medal.
Mr Cryer Senior also was received a Commander of the Order of the British Empire medal, which his grandson wore proudly today.
He said today for him, was a chance to remember has grandfather. "It is just incredible to think that this is happening."
- APNZ