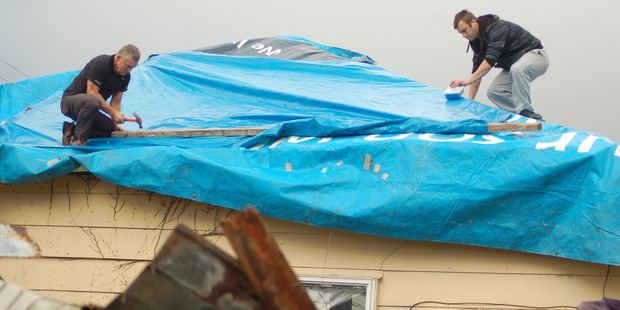 In wind-wary Blaketown they've been patching roofs again after yet another West Coast natural disaster, and one family with no insurance is wondering where to turn.
This time three families were left homeless, and garages and everything within them cast asunder, in 30 seconds of terror when a tornado spun off the sea during a tempest on Saturday evening.
Tornadoes and windstorms are no strangers to Blaketown. So much so that residents know exactly what to do when disaster strikes. Yesterday [SUNDAY], troops of local residents rallied up ladders -- including the Mayor Tony Kokshoorn, hammer in hand -- to secure tarpaulins across gaping roofs in a race to beat the next downpour, and help pick up the debris that littered the Doyle Street neighbourhood.
Blaketown folk are well drilled in tornado-wind damage repairs. Only 15 weeks after easterlies from Cyclone Ita howled through the suburb, demolishing the hall and ripping the roofs off about a dozen Blaketown homes, some are still roof-less and others are still under repair.
Those cyclone repairs came only six years after the July 31, 2008 windstorm blew roofs off in Blaketown and Cobden, and that also was only three years after a vicious tornado roared through Collins Street on March 10, 2005, before moving across the lagoon to cut a swathe through central Greymouth, damaging over 100 homes in the process.
Marcia Pere's home, on the corner of Doyle and Coakley Streets, suffered the worst damage on Saturday.
Adding to the despair, her house was uninsured due to wrangling after the Christchurch earthquakes about houses more than 100 years old. She does have contents insurance.
A large part of her roof went, and the garage. Unsecured on Saturday night, rain poured in, saturating carpets and furniture.
Today she was unsure what would happen next as the electricals were all wet. She was unsure how bad the structural damage was until a builder friend had looked at it.
"One whole side, where the fire brigade didn't put a tarp, got completely drenched," Ms Pere said.
That means she has to move out. She cannot afford the costly repairs, but would "love to go back to my own house", which she owns outright.
Unsure where to turn, she is considering setting up a fundraising page on the website Give a Little.
When a Grey District Council staff member drove past yesterday and informed them they had to secure the roof, the family was left unsure what to do.
So family matriarch Maree Awatere approached Mayor Tony Kokshoorn, who spent four hours on the roof himself helping secure a tarpaulin.
"We tried everyone, we couldn't find anyone to help," Mrs Awatere said.
Mr Kokshoorn today said the Mayoral Relief Fund would be available to all victims to help get them over the short-term problem. "It hasn't got a lot in it, but it will be a helping hand to get them through the week."
With this latest event the council has exhausted its supply of tarpaulins.
"They're all over Greymouth. We only had one left yesterday. They are all over town from the last (disaster) still."
Blaketown residents can have some consolation in knowing that their insurance rates will not be affected.
Insurance Council of New Zealand communications manager Samson Samasoni said the recent weather events were highly unlikely to have any impact on premiums or insurability.
"If there are repeated costly events in the same area over a period of time, individual insurers will assess their appetite for taking on the risk and the price of that risk, but it's more likely to require a significant number of costly recurrences before policy holders are likely to see any change on premiums or excesses," Mr Samasoni said.
- APNZ