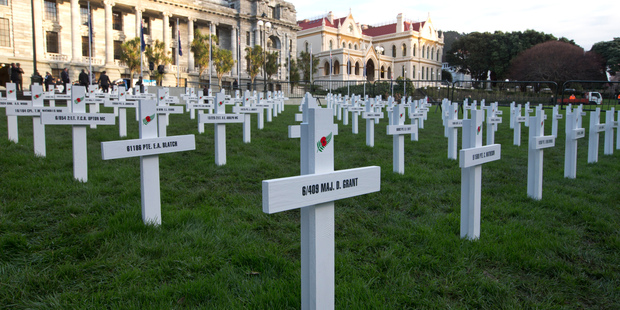 One hundred gun shots echoed over Wellington today, marking the 100th anniversary of the start of WWI.
In 1914, Britain's proclamation of war from King George was read out by the country's governor Lord Liverpool to a crowd of thousands who had gathered at Parliament grounds.
Today, politicians and dignitaries lined the steps of Parliament as the document was read again by radio broadcaster Hewitt Humphrey.
It said the King was reassured by messages of support by dominion countries over the previous few days.
"I shall be strengthened in the discharge of the great responsibilities which rest upon me by the confident belief that in this time of trial my Empire will stand united, calm, resolute, trusting in God."
Lord Liverpool's reply to the King was that New Zealand was prepared to "make any sacrifice to maintain her heritage and her birthright".
Mr Humphrey then read out a second telegram Lord Liverpool received that morning from King George, which announced that war had broken out against Germany.
In a poignant reminder of the more than 18,000 New Zealand troops killed in the war, 100 white crosses, bearing names of fallen soldiers, were placed on the Field of Remembrance Trust's field on Parliament's lawn.
Photos: Wellington's 100-gun salute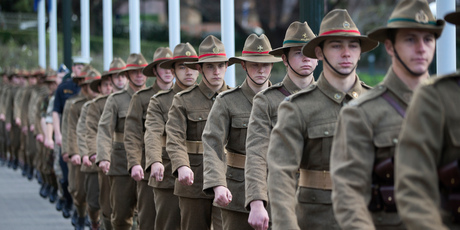 Speaker David Carter opened the ceremony by saying a century ago the storm clouds that had been gathering over Europe reached New Zealand.
"When word had reached New Zealand there was no question about how we would respond.
"We were a dominion of Great Britain, Great Britain was at war and therefore, so were we."
The war lasted four years and it was a conflict on a scale the world had not seen before, Mr Carter said.
"Over 100,000 brave New Zealanders stormed overseas."
New Zealand flags were lowered to half mast by members of the New Zealand Defence Force, dressed in replica WWI uniforms, as the Last Post rang out over the grounds.
Prime Minister John Key said the 1914 proclamation was "met with excitement" by the country and 10 per cent of the population left to serve overseas.
"New Zealand's commitment was not just limited to soldiers - doctors, nurses, sailors and tunnellers all left our shores to serve New Zealanders overseas."
Over the next five years commemorative events would take place across the country and world to mark the war, he said.
Labour Party leader David Cunliffe said the war underscored "emerging concepts of nation and nationhood".
"A hundred years on it seems so distant - the shear weight of loss remains with us."
New Zealand was the first country to mark the centenary.
Governor General Lieutenant-General Sir Jerry Mateparae will represent New Zealand at the Commonwealth ceremony at Glasgow Cathedral.
New Zealand High Commissioner Lockwood Smith will attend a vigil at Westminster Cathedral.
- APNZ