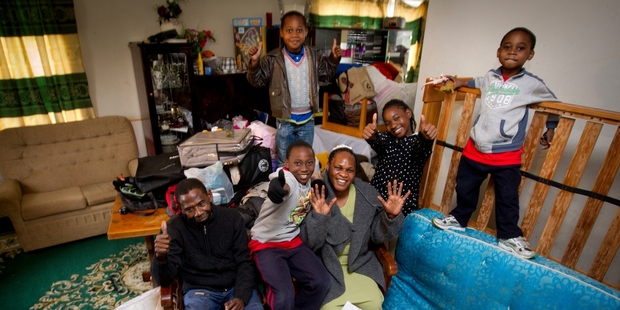 An Auckland Congolese family whose children are sponsored by New Zealand donors have been overwhelmed by readers' generosity since their story featured in the Herald a week ago.
The children, three out of four in a Congolese family who came here as refugees in 2008, need the sponsorship of $35 a month each because their parents, Charles and Pascaline Salama, cannot make ends meet on welfare benefits. They are unable to work because of health conditions partly stemming from a 2003 tribal massacre in which their other two children and 300 members of their tribe were killed.
Readers responded to the story with an outpouring of support - providing bunks for two boys who were head-to-tailing in one single bed, a new fridge and microwave, a table and chairs, a new couch, a coffee table, a rice cooker, a toaster, curtains, clothes, blankets, a zoo pass for the family and a trailer-load of firewood.
One woman even rang Fisher & Paykel, which has given them a new washing machine and drier.
"It's amazing really how generous people are," said Allie Fyfe, a public health nurse who originally referred the family to the children's charity Variety, which has started a scheme for people to sponsor needy children in New Zealand.
Eleven-year-old Ruth Salama, the family's eldest surviving child and chief interpreter, said the family were surprised and excited.
Her two older brothers died in the 2003 tribal massacre just before she was born.
"Mum wants to say thank you to all those people and may God bless them," she said.
"The exciting thing for me is we are getting a TV and I'm getting an iPad."
The family plan to buy the iPad out of the $750 that one reader gathered from her friends to go towards the four children's school expenses. Ruth's school has a "bring your own device" policy.
Another reader has given a $60 voucher towards a future school uniform for the youngest boy, Samuel, who is 4.
The middle two children David, 9, and Samson, 6, have been sharing a single bed because the family could not afford bunks.
Ms Fyfe said the other items would all make a big difference.
"The washing machine had broken so they were hand-washing everything," she said. "The fridge leaks and they have to mop up the water every day.
"They have never had a drier before. They didn't have a toaster. The curtains are very thin, so warm thermal curtains will be awesome. The trailer of firewood - that's how they heat the house."
Variety spokeswoman Miriam Shaw said more than 50 readers also signed up to sponsor other needy Kiwi children after the Salamas' story appeared, lifting the number of sponsored children above 1000.
"We have many children waiting in the wings for support through Kiwi Kid Sponsorship," she said, "and it would be great to spread the goodwill to create a wider impact."
On the web: